As the temperature drops, it's time to re-think your heating system. Here at Man Cave Mafia we will tell you how to keep your home all snug and warm this winter and advises on the hottest heaters around.
Underfloor Heating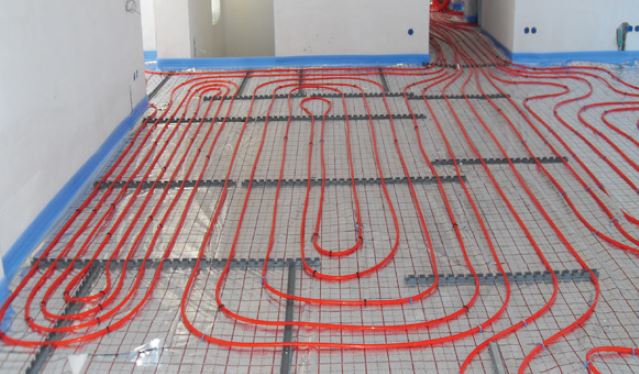 Underfloor heating systems evenly distribute heat at low temperatures and can make an efficient and unobtrusive alternative to radiators. Wet and dry underfloor heating systems can be divided into zones and controlled with thermostat and room sensors.
To prevent heat loss, the initial build consists of an insulating layer such as polystyrene boards followed by the system's pipes or mats, and a suspended or screed floor.
Wet systems distribute hot water under the floor through continuous lengths of high-quality plastic pipes. As the heat radiates over a wide area, temperatures can be kept lower than with radiators, making the systems safer and more economical.
A wide range of floor finishes-including wood– can be used without risk of damage or warping from heat. The finishes can be used with a variety of different bases like concrete, a floor with screed or on a suspended board.
Dry systems are generally more expensive to run than their wet counterparts but the electric mats involved are relatively easy to install and are suitable for isolated room installations in for example bathrooms, kitchens or observatories, or indeed a man cave or gaming room that needs that extra heating solution.
The thin electric mats, which are composed of a heating element snaking through a fabric mesh, can be laid in strips over a specific area.
As always we suggest Amazon when looking for an underfloor heating solution due to their great value, incomparable selection and trust factor.
15 Sqaure ft Electric Heating Mat with Thermostat

Electric Heating Mat Size: 20 inches wide x 9 inches long; 

120V, 1.5 Amps, 180W, 12 Watts/Sqft, UL Listed for USA and Canada

Honeywell/Aube Thermostat # TH115-AF-120S, and floor sensor. Installation monitor included.

Made in the USA using the highest quality materials
100 Square Feet Electric Radiant Floor Heating Mat, 20 Inches Wide x 61 Feet Long, Includes Programmable Thermostat

Premium Quality USA Floor Warming Cable Designed for Longevity and durability

Listed and Safe for Wet Locations. Thin profile ~1/8″ thick. Adheres to the Floor.

Limited Lifetime Warranty by an over 20 Year Trusted USA Manufacturer

Voltage: 120V – Amps: 10 – Watts: 1200 – 15 ft Cold Lead – 12 Watts/Sqft
STOVES AND FIRES
A good fire needs an effective draw, non-combustible surrounds, an efficient smoke chamber and a structurally sound chimney for the best risk-free marshmallow toasting experience.
if your chimney is unlined, i.e. rendered with cement or exposed bricks, corrosive elements in the gases will eventually eat into the mortar and end up corroding the structure and, in extreme cases, allows the smoke to seep through.
A flue liner protects the brickwork and reduces the chimney hole (or bore), in effect increasing the draught for a more energetic fire.
Flue liners can be either stainless-steel tubes fed into the chimney breast or instead cast in situ, where a fat rubber hose pipe is lowered into the chimney and then inflated with air to make a circular mould.
An infill of sand, cement and vermiculite –a lightweight heat insulating mineral– is then poured into the mould and, once set the tube is removed, leaving a smooth-bore flue in its place.
Stoves are considerably more efficient than open-fronted fires and, if used in conjunction with a back-boiler, can be used both as a primary source of heat and for providing the house with hot water. Fitted with a self-feeding hopper (coal store) and a damper to regulate the draw, these fires can be left to run all night.
EPA Certified (NSPS Phase 1 Approved)

Up to 77,000 BTU's/hr heats up to 2,200 sq. ft.

Large ceramic glass window to the fire for an amazing view

Ash drawer allows for quick & easy cleanup

Includes variable speed blower (PBAR-2427) for quiet, yet powerful heat distribution

Instructional DVD included for assembly & operation

Made In the USA; 5 Year Warranty
Eco Fuels 
How do you feed a blazing fire when you live in a smoke-controlled zone?
Smoke consists of unburned carbon or soot, tar particles and hydrocarbons, which not only create dust and grime in the home but more seriously, cause damage to our lungs.
The London smog of 1952 lasted for several days and caused 4,000 respiratory-related deaths. Besides reminders and avoidance of our scary past these days, built-up areas prohibit smoke emissions from chimneys but don't let your open fire dreams go up in smoke as there is still a multitude of solid fuel options that can be used in their place.
Natural Smokeless Fuels.
Natural smokeless fuels include anthracite cobbles and smaller nuts for closed appliances. These minerals are taken from deep down in the grounds strata.
Anthracite is a purer carbon compound than household coal resulting in far fewer waste products and therefore giving off less smoke which is of course, always preferable.
Manufactured, smokeless fuels.
Although they're not exactly energy efficient, manufactured coals are pre-burned to rid them of the waste product of coal-smoke. Although trickier to get going the second time around, the less volatile coal does burn evenly and gives off more heat than ordinary coal.
Useful Links: 
https://ec.europa.eu/energy/en/topics/energy-efficiency
https://www.nrdc.org/stories/energy-efficiency-clean-facts
https://www.popularmechanics.com/home/interior-projects/a22553555/keep-house-warm-insulation-energy-check/