Do you know a Harley-Davidson® fan you want to buy a gift for?
If so and you're on the lookout for some great gift-shopping ideas, then you're in the right place to check out our Harley-Davidson gift buyers guide for 2018.
Harley–Davidson Motor Company is one of the most recognizable and iconic brands in the world and their name carries weight whether on the side of a chopper or on the back of a leather jacket.
The motorcycle manufacturing giant is instantly recognizable as a brand around the world and you see the Harley-Davidson iconic bar and shield logo crop-up everywhere.
When you think of Harley-Davidson it conjures up a lot of images of rough and tough bikers, the freedom of the open road and the call to adventure.
It brings up a sense of rebellious liberty and freedom that is hard to compete with and perfectly champions the core values of American liberty and individualism..
Harley-Davidson as not only a company but as a brand is a juggernaut of mythical proportions as not only a motorcycle manufacturer but as an indelible part of the pop-culture zeitgeist..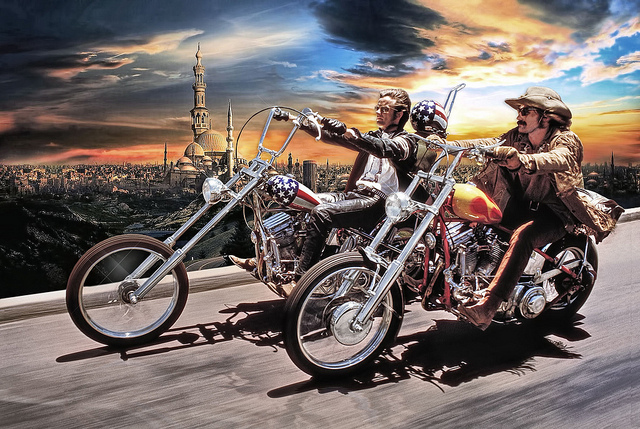 So if you're in the market and shopping for gifts for either yourself or someone else who is a big fan of Harley-Davidson then you're in the right place!
We're about to take a look at twenty of the best Harley-Davidson themed gift ideas out there; from high quality third-party apparel and gear to Harley's own official line of accessories.
No matter what your budget is here we've tried to feature a nice spread across the price spectrum so we hope you see something that you like.
Hopefully our Harley-Davidson gift ideas buyers guide will help inspire you make an informed buyers decision.
So without further ado, let's get in to our top 20 best Harley Davidson gift ideas!
 The Top 20 Best Gift Ideas for The Harley-Davidson® Superfan
Harley-Davidson®

 Men's 115th Anniversary Limited Edition Black Watch 
This extremley stylish watch is in celebration of the 115th Anniversary of the Harley-Davidson Motor Company and features a fantastic golden eagle design swooping over the iconic Harley-Davidson logo.
This is an absolutely stunning timepiece that would make a fantastic birthday, Fathers-day, anniversary or Christmas present.
What I'm saying is that there is never a bad time to receive this stunning Harley Davidson watch.
Don't dilly-dally though, it's a limited release.
---
Harley-Davidson® Men's Engulfed Flaming Skull Head Wrap
The classic Harley-Davidson durag or skullcap headwrap is perfect for anyone trying to go for the authentic Harley-Davidson or Hell's Angel biker look.
Featuring a skull motif on the side with "Harley-Davidson Motorcycle" emblazoned across the front with a faded shield logo just above I really liked the aesthetic of this particular headwrap but there are of course plenty of choices to choose from after the jump if you're looking for something slightly different.
---
Harley-Davidson® Women's Crystal Coin Link Bar & Shield Watch
It's not all just toys for the boys here.
We're also showing some love to the Harley-Davidson ladies as well, with this exquisite women's crystal coin watch featuring the Harley logo and shield motif on the face and bracelet.
---
Harley-Davidson® Pullover Hoodie – Billboard
This high-quality hoodie features striking Harley motifs across the front, back and arms.
Featuring the classic skull design this is an excellent piece of official Harley-Davidson apparel that you can't go wrong with.
---
Harley-Davidson® Bulova® Women's Watch. Mother-of-Pearl Dial
Another women's watch here that just had to make the list.
Elegant but still holding true to the roots of the Harley design ethos this beautiful Bulova womens watch features a mother of pearl dial that shimmers in the light.
Everything about this timepiece is high quality and is a perfect gift choice for any female Harley-Davidson fans you might know!
---
Harley-Davidson® Bike Patent Prints – Framed Behind Glass 14×17 ( 2pc Set)
This authentic two-piece framed patent print is a perfect gift for the Harley-Davidson fan that cares about the history of the iconic company and wants to own a unique piece of that history themselves.
These prints feature the actual patents put forth by Harley-Davidson in 1919 and is a fantastic decorative option for any biker themed man cave going.
---
Harley-Davidson® Biker Themed Garden Gnome
Get your boring old garden some much needed style with this bad-ass leather jacket wearing gnome.
There isn't a great deal to add here. What you see is what you get.
You're either a person that needs a Harley-Davidson leather clad gnome in your life or know someone that does or not.
Your call!
---
Harley-Davidson® Leather Toiletry Kit
I'm always getting into a mess with my toiletries so I myself also have my eye on this very smart leather Harley Davidson toiletry kit.
If you travel a lot then this premium toiletry bag featuring the Harley bar and shield logo embroidered on the front is an excellent choice.
the quality of the leather, stitching and zip are all as you would expect from official Harley gear so no worries there either.
Another great gift idea.
---
Harley-Davidson® Men's Scout Motorcycle Harness Boot
There is nothing quite like a high quality pair of motorcycle boots and these high ankle leather boots from Harley-Davidson, complete with metal bar and shield logo and buckled design are some of the best I've seen.
They somehow manage to both be elegant and bad-ass at the same time.
Built to last a high quality pair of motorcycle boots like these should last you years to come so I as a general rule always go for quality and these certainly fit the bill if you're looking to buy for yourself or someone else who is into biking.
---
Harley-Davidson Bar & Shield Carbon Fiber Vinyl Inlay Key Chain
Simple, smart and cheap this Harley-Davidson keychain is a nice gift idea or stocking filler when you're not looking to break the bank.
Featuring the Harley bar and shield logo this will elevate any set of keys you carry around.
Harley Davidson Poker Chip Collectors Frame
This smart poker chip collectors frame features special Harley Davidson poker chips.
Harley-Davidson Skull Gas Pump Bank and Tall Beer Glass Set
This nifty Harley themed tall beer glass with skull motif piggybank is a fun and affordable gift for the thrifty drinker I guess? Ha.
Harley-Davidson Traditional Bristle Dartboard
Dive bars, pubs, bikers and darts.
Some things just go together.
This awesome high grade traditional Harley Davidson dart board is perfect for your games room or man cave and will happily stand-up to thousands of games of darts.
I especially love the use of the orange to really link it back to the Harley logo as well.
Another brilliant gift choice for the Harley davidson fan and darts enthusiast looking to elevate their man cave to the next level.
Harley-Davidson Countertop Air Popcorn Machine
Are you a fan of both famous motorcycle companies and popcorn?
Well then you're in luck!
If this thing wasn't built to stand proudly in a decked out man cave then nothing is.
This Harley themed popcorn machine is a great collectors piece, brilliant conversation starter and also a more than practical popcorn maker that will perfectly compliment any man cave or home theater setup.
5-Pc. Harley-Davidson Bar & Shield Whiskey Decanter Set
We've featured this decanter set once before in our Decanter Buyers Guide but here it is again for this gift guide, because it's one of our favourite Harley pieces out there.
The shield logo is shaped perfectly into the shape of the decanter itself in this beautiful but sturdy design.
Also included are two etched Harley-Davidson tumbler glasses and a pair of coasters to round off the set.
This is a perfect gift for any Harley fans that also inclined to the odd glass of whiskey (when they're not driving on the open road of course!)
---