If that flickering striplight in your living room is giving you a migraine and your bedrooms so dingy that bats roost in it, it sounds like you need help. So just check out these bright ideas for clever lighting room-by-room.
Living Room: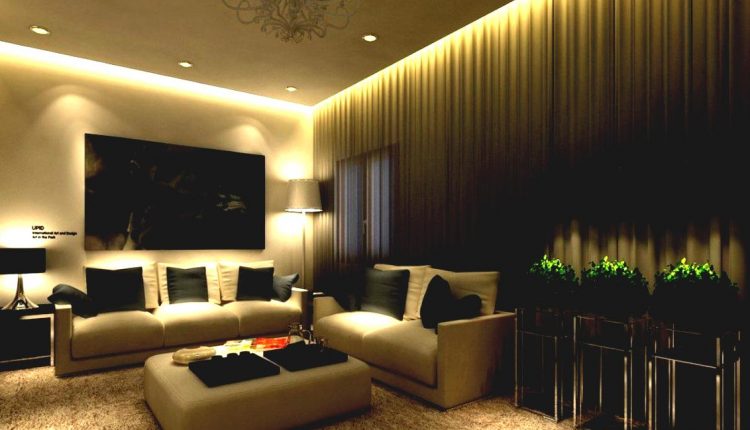 You use your living room for lots of different things, so work in a mix of lighting that can do everything from focussing on a reading chair to creating a welcoming atmosphere.
Avoid central ceiling pendants as they can look too cold and overpowering in a living room.
Create a warm glow with candles or soften a strong overhead light with low-watt bulbs and shade in a warm colour. Fitting a dimmer switch may also be a good investment.
You'll be changing the decor or furniture more frequently than elsewhere, so avoid lots of permanent lights -table or standard lamps are best. Put them next to sofas and chairs and they'll act as both task lighting for reading and ambient lighting for the whole room.
Stylish deep blue Cobalt glass bottle with a knotted rope design 

100% hardback drum-shade in all natural grey

On-off rotary switch on socket

Takes one bulb and compatible with any Type "a"100-watt incandescent, 23 watt CFL, or 12 watt LED
Central pendants can cast too harsh a light, so go for smaller stylish table lamps and standard lamps instead.
Kitchen: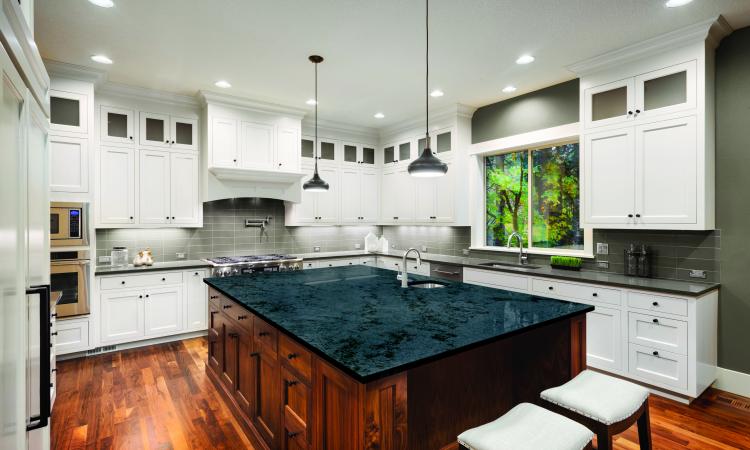 Well-planned lighting is the key to the perfect kitchen.
As units and appliances tend to be permanent go for fixed wall and ceiling lighting.
Avoid lamps and freestanding lights – they clutter worksurfaces and trailing flexes are dangerous. Give pendants a miss, too – the glare they produce makes them unsuitable for kitchen work, although they are great over a dining table or a kitchen island.
Spotlights are the best over cooking areas but watch where you put them or you could end up working in your own shadow. Striplights aren't that pretty but they provide useful light so place them under wall-units or shelves.
Halogen is the best light for a kitchen because it's very clear and pure and closets to natural light.
Remember to use low-voltage bulbs, -just a splash of water on a hot lightbulb is enough to make it shatter.
Pendant lights like these awesome brushed nickel offerings from Progress Lighting are not well suited to illuminating everything in your kitchen but are excellent for a dining area or kitchen island.
Bathroom: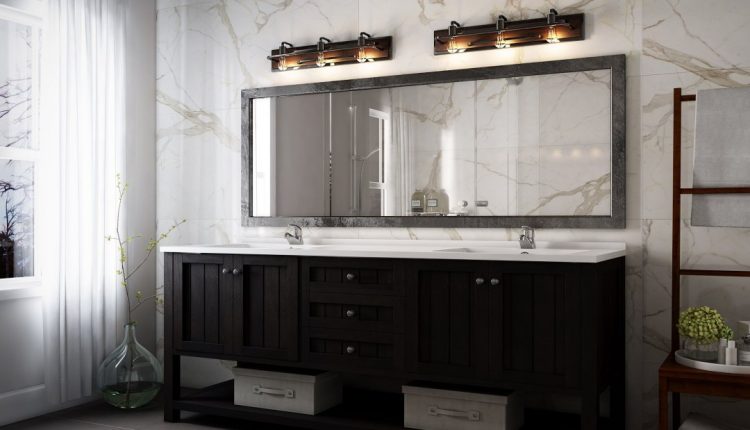 Go for both bright light, so you can see what you're doing in the mirror and softer lights for when you just want to soak the day away in the bathtub.
Remember, – electricity and water are a bad combination, so if you're fitting lights yourself and are not quite sure what you're doing do yourself a favour and consult an expert.
Bathroom lights need to be steam-proof and splash proof. They must be sealed and waterproof units which completely enclose the bulb.
A sink and mirror must have strong lightings, preferably from the top and sides, so that your face is evenly illuminated.
Apart from around the sink area, bathroom lighting needn't be too bright, as most bathrooms have large expanses of tiles that help to reflect light and illuminate the area.#
Bedroom: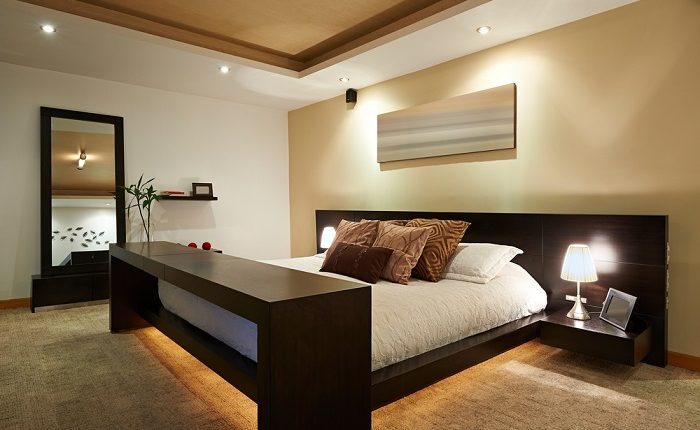 Bedroom lighting should be soft and ambient, with clever task lighting for reading and relaxing.
In the mood to get it on? Then go for large-shaded pendants, downlighters or uplighters, Make sure they've got a dimmer function for that nighttime glow or bright wake-up blast.
Good bedside lighting is essential, so choose small table lamps, task lights or wall mounted lights.
To avoid unnecessary arguments with your partner fit a light either side of a double bed, each with their own separate switch. Make sure they are high enough to illuminate the page and shaded so that they don't shine right in your face – lights with flexible arms are ideal.
Dressing areas and the region around the wardrobe should be well lit – you don't want to go out with your pants on your head, now do you? If you own a dressing table then try and light it from both sides so your face is evenly illuminated.
When in doubt go for tungsten bulbs — they create the most flattering light.
Hallways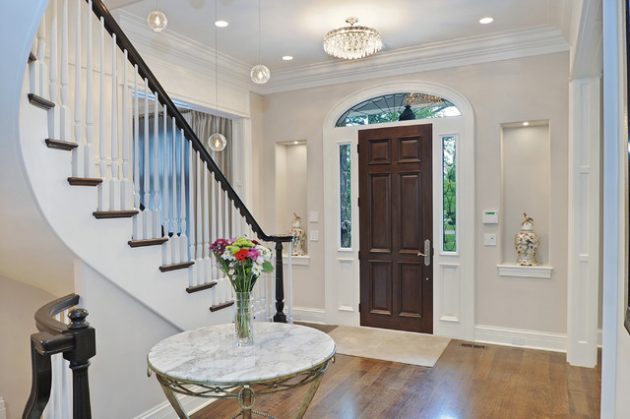 Halls are often long, narrow and cramped. Tricky to light? Not really…
Hallway lighting is important, so don't neglect it. Being the first part of the house your guests walk into it should have a welcoming vibe.
Don't' go for freestanding lamps — they'll just end up getting kicked over and the flex is dangerous.
Wall or ceiling lights are your best bet as they make the most economical use of space.
Fit a light switch near the front door so you don't have to walk into a dark house.
Floor level lighting  – tiny recessed spotlights in walls and skirting boards – are a good idea especially on stairs, which need brighter light than hallways.
Make the most of any natural light by installing glazed panels in exterior and interior doors to let it flow through the house.
Choose wall-lights that give off a warm welcoming glow.
Study: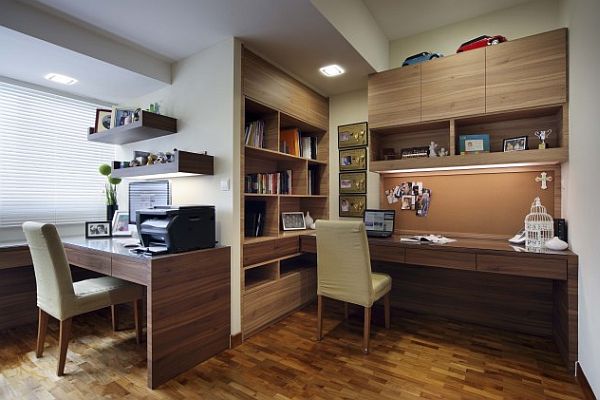 Whether you're penning your memoirs or typing out your tax returns, you need the right lighting to work by.
Light your work from above and the side. Anglepoise lamps are perfect for this as you can move their position. Then, when you've finished working, you can also tilt them to become uplighters. If you're using a computer keep this kind of task lighting at an angle to your keyboard, not the computer screen, to avoid reflection.
Keep background lighting soft and low-key – uplighters create a warm glow and won't reflect off the computer screen.
When it comes to natural light, sunshine on a computer monitor is a big no-no, so make sure your computer and workspace are facing away from the window. If your room is very sunny then use fine voile curtains to filter the brightness.
Don't block out natural light totally thought, it helps you concentrate, and stay awake.
Halogen bulbs are best suited for the study since they provide a bright, clean light to work by.
---
What's what in lighting?
Uplighters: 
Uplighters like the one featured here from Kenroy Home are used to bounce light off the ceiling to create a feeling of space and a welcoming glow.
They can also be used to draw attention to certain parts of your room if you perhaps have some art or memorabilia you would like to feature.
Downlighters:
Downlighters are wall-mounted lights which direct light, er, down; can make large spaces feel cosier.
---
Task lighting: 
These are your desk lamps and they come in many guises and are used for working, cooking, or anything else you can reasonably imagine. The one featured here is a coiled silver iron desk lamp with an industrial design.
---
Ambient lighting:
All sorts of lamps, candles and wall-mounted lights are great here and are used to set the overall mood of a room. Great in sitting rooms and bedrooms.
---
Bulbs:
If you don't fancy forking out loads of cash on a new light or lamp, simply changing the bulb can still make a big difference and there are lots of different types available.
Coloured bulbs are great for accenting specific areas and changing the mood of a room.
Halogen bulbs give natural light that's very practical and great for working with.
Spotlight bulbs create focused pools of light – great for accenting specific areas.
For a flattering glow, pick a good old fashioned pearl bulb.
Energy saving bulbs last up to and beyond 5 years — very economical and great for hard to reach places where changing the bulb frequently is not practical.
Switches:
switches and sockets are often an overlooked part of a lighting scheme but with a little imagination, they can do wonders for your room.
There are loads of trendy designs to go for. Chrome and brass switches, for example, look fab and kitting out your entire house with them is relatively inexpensive and can really give a touch of class and sophistication to a room.
Always keep in mind that it is imperative to shut down the main power to the house before installing anything like this.
If you're having your house rewired, you've got the scope to plan where you would like to put the switches – inside or outside the room, or lower down the wall. You can also set up time and energy saving systems. Connect overhead lights to one switch and all the lamps to another.