So why would you want an electronic dartboard?
The man cave is a relaxation spot that can be used for many different activities, from chilling at your man cave home bar with a home made cocktail, to lounging about in your own home theater setup for the ultimate unwind experience, but the man cave is also famous for being a place where your competitive streak can be cultivated and enjoyed as well.
No self-respecting man cave can go without some fun games and activities and what better game to play than a tried and true classic like darts?
I'm partial to a round of darts when I go to a bar with a dartboard, but invariably the darts are always crappy and falling apart and the board is usually in a terrible state of disrepair having been subjected to thousands of games of abuse.
The benefits of having a home electronic dartboard are the same as many the fully decked out man cave experience caters for:
Ease of access and freedom to play when I want without waiting for other patrons to finish their games, control over the actual equipment and just the coolness and authentic feel factor of having my own personal dartboard me and my friends can have matches on whilst enjoying a cocktail or a home made IPA craft beer.
It's a great experience and one I can only recommend.
So, we've established an electronic dartboard is a great addition to your man cave but there are so many on the market what are the best dart board models to buy currently in 2017?
We've had a look at a number of top electronic dart boards featured on Amazon and whittled down the top choices to these top five best dartboard models of the year.
Top 5 Best Electronic Dartboards of 2017
[go_pricing id="electronicdarts"]
---
Arachnid Cricket Pro 800 Electronic Dartboard
The Arachnid Cricket Pro 800 Electronic Dartboard is a tournament-quality dartboard with an absolute ton of features packed in to its smart design.
This regulation 15.5 inch board is perfect for tournament level play and comes in a striking trademarked red, black and yellow board design famous to Arachnids brand.
Featuring a whopping 40 game modes with 179 variations the Arachnid Pro 800 is a complete solution when it comes to the electronic dartboard experience which is reflected in ts price but also in its high quality construction and feature set.
The tightly packed nylon touch spikes offer a superior experience which results in far fewer bounce outs and unmatched higher accuracy scoring from the super sensitive sensors on board and has been shown to be quieter than other similar boards and for an extra flourish that can match the joviality of darts as a social past time, but also the nature of the man cave itself, there is also an inbuilt heckler that will trash you for bad throws and applaud those sweet treble 20's.
This feature is gladly optional though because while fun and definitely worth a few laughs I can't imagine personally having it on all the time!
With 2 separate LED displays one of which being a jumbo 4 player score display and with support for up to 8 players no matter what darts game variation you want to play the Arachnid Pro 800 allows you to easily keep track of the scoring.
The Arachnid Cricket Pro 800 Electronic Dartboard is no doubt a top level board and can easily be a centerpiece of your games room/man cave for years to come.
Coming in at the $200 mark makes it more expensive than some other models but this is really reflected in everything from the tournament standard, build quality and extremley impressive feature set this board offers.
If you are looking to a high quality electronic dartboard there is really very little reason barring the slightly higher price than not to go with this one.
---
Viper Eclipse II Electronic Soft Tip Dartboard
The Viper Eclipse II Electronic Soft Tip Dartboard is another top in class device and one of the best electronic dart boards on the market today.
Featuring support for eight concurrent players this is a great party piece but also an extremely high quality dartboard that offers a tournament standard darts experience every single time you want to play.
We here at Man Cave Mafia are ones that appreciate nice aesthetics as well and the red, black and silver design featured on the Viper Eclipse is extremley striking and smart and looks the right business up on your man cave wall. 
With a totally insane count of  48 games with 585 variations available it's simply impossible to not have the darts experience you want from the Viper.
A number of bright LCD displays eliminate any need for manual scoring and makes games breeze by with the minimal amount of fuss.
Built with the top level industry standard high durability nylon segments this is a board that can also take a lot of punishment and will last you for years.
This is another highly recommended dartboard from us which is also in the higher bracket ticket price but again justifies it with superior build quality and features.
---
Viper 797 Electronic Soft Tip Dartboar

d
The Viper 797 Electronic Soft Tip Dartboard is the little brother of the Viper II Eclipse featured above and is a fantastic compromise for those with a more budget focused mindset.
Coming in at below $100 this electronic dartboard is affordable but also feature rich offering a great darts experience for the price. 
Coming in a smart, red, silver and black design the Viper 797 is a surprisingly accurate and sturdy board.
With 43 game modes and 240 options it can accommodate up-to 16 players and despite the wealth of options available is easy to use and intuitive with a large LED display and clear buttons.
Basically you're getting a whole lot of electronic dart board for a very reasonable price from one of the leaders in the electronic dartboard market that is known for their quality.
Durable, feature rich, accurate and affordable this is a no-brainer if you're looking for a bargain.
---
Darts Connect Online Electronic Dartboard
The Darts Connect Online Electronic Dartboard is a really interesting entry on our list that fully embraces modern technology.
By connecting to your smart phone (Android / Apple smart devices via WiFi ) you can enter an online darts championship mode which pits you against players from all over the world on a global leader board.
An inbuilt camera is also installed to prevent cheating making sure everything stays on the up-and-up. This is the worlds first "smart dartboard" giving you the ability to play a game of darts with a stranger or best friend on the other side of the world from the comfort of your own home.
It even allows you to taunt your competitors with voice and text messages.
Coupling an old classic like darts with an online competitive experience probably isn't the first thing that comes to mind when on the hunt for a new dartboard but it's a great addition to this one.
This is a truly revolutionary step for an electronic darts board and is definitely more than just a neat gimmick. It's an entire selling point all on its own.
It's a great interactive online experience that you will be hard pressed to find anywhere else.
The board itself is of high build quality and looks it.
The online features are of course optional and the Darts Connect Online Electronic Dartboard will function perfectly as a regular board and comes with a ton of party games and classic dart game modes to play and track on your tablet or smart device.
All in all this board comes in a little more expensive than other boards but the online feature is so integral and unique to this dartboard that we think it justifies it.
Another top quality entry on our electronic dartboard rundown.
---
Vdarts H2L Global Online Electronic Dartboard
The VDarts H2L Global Online Electronic Dartboard is in a category all of its own; casting off the shackles of conformity for something far more striking and futuristic.
This electronic dartboard would not look out of place in an episode of Star Trek with it's stunning LED lighting schemes giving an almost stained glass look as well as many other customized options.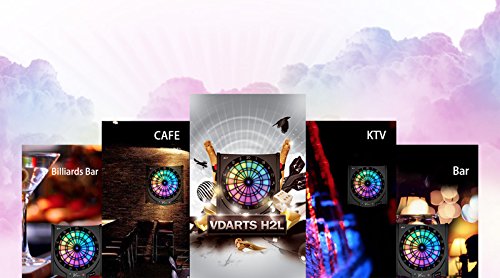 This electronic dartboard is brand spanking new for 2017 and will ship in June.
Featuring online play, global leader-boards and much more everything about this board screams cutting edge.
Yes, the price is definitely on the steep side, there is no way of denying that, but for a centerpiece dartboard for your man cave or home bar this is an absolutely stunning option to consider and is for those that want something truly unique and bleeding edge. 
---
What to look for when buying an Electronic Dartboard
Well I guess the easy answer is to use our top 5 list above since all the options on there are chosen specifically from a quality stand point.
Sure, there are some cheaper electronic dart boards on the market that come in at the sub <$50 range but while I am always up for a bargain at the best of times I find any of them really hard to recommend.
Ultimately you get what you pay for and even though electronic dartboards are subject to far less wear-and-tear compared to their bristle dartboard counterparts, due to the soft tips used, you still want some decent build quality there and I have found it lacking in the really bargain bin dartboards I've looked at.
As always a little bit of common sense goes a long way but for a general rule these are the things you want to keep an eye out for when making an informed purchase for an electronic dartboard in 2017.
Build quality
Accessories
Known brand
Anything under $70 is usually a bad investment
Game mode features
LED screens
Intuitive and easy scoring
So as you can see, there really isn't an specialized knowledge you need to have. You cannot go wrong with our top 5 list and if you're looking to make a purchase we would naturally recommend taking a good look at those models first.
Paying a little extra for a dartboard that will last you for years is probably the best way to go unless you are in an extreme budget mindset and even then I'd suggest something like the Viper 797 as the range you want to look at for a budget electronic dartboard that still packs a punch with plenty of features and high build quality from a well known manufacturer.
Going off-brand and cheaper just isn't worth it and the darts experience won't match up to the higher price models.
---
History of "Darts" and the Dartboard
In their original form dart boards were made out of elm wood and were introduced by publicans in their establishments back in the 1920's.
Although simpler games of darts date back to the 1800's.
After a night of darts the rudimentary elm dartboards had to be treated by being soaked in warm water to "heal" the damage done by the darts.
This worked to an extent but was a messy affair and it soon became clear that a better option for this old favourite was on the horizon.
Enter a company called Nordor who in the 1920's started making dart boards out of clay.
Originally a modelling clay producing company famous for their odorless clay (hence the name, Nodor) these didn't really catch on until some bright spark at the company came up with the idea of using the fibers from the Century Plant (Agave amer­i­cana), namely sisal fibers, to make the surface of the dartboard with.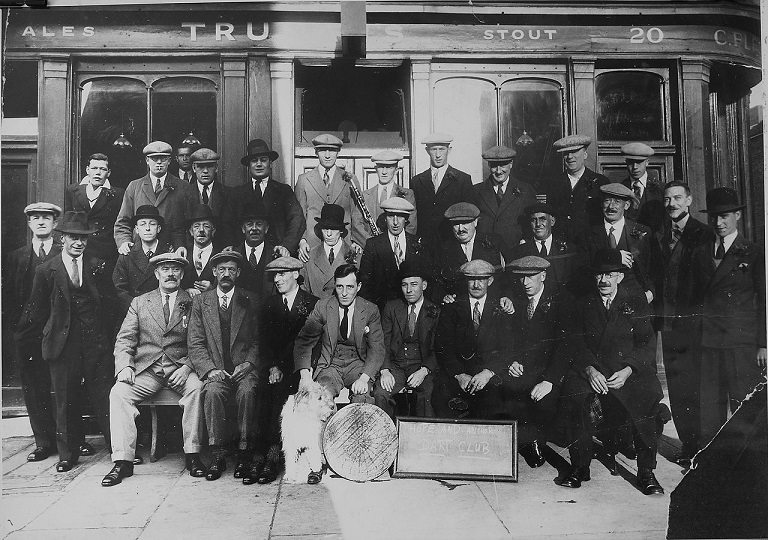 The benefits were obvious immediately. The sisal fibers instead of being damaged by the incoming darts would simply part and allow the dart to nestle between the fibers.
This was achieved by tightly packing the fibers in to the dartboard shape before being bound by a metal ring and wire called the "spider."
It is essentially a condensed version of an archery target practice ring that uses tightly bound straw to the same effect.
From there the game of darts has gone from strength to strength, and is now one of the most popular parlor games in the world and a favourite for pubs and bars.
This simple, skill based game has stood the test of time due to its easy to play but difficult to master difficulty and it's communal nature.
The march of technology and innovation is relentless though and even the humble dartboard has stepped in to the future with the electronic models offering an excellent tournament level play experience with many game modes and scoring options.
---
Electronic Dartboards vs Bristle Dartboards
When choosing between an electronic or bristle dart board the question really has to come down to what you are looking for in your darts experience.
Some might balk at the idea of an electronic dart board due to it not having the right "atmosphere" of the pubs of old but that is something you will have to decide yourself.
If you are looking to deck out your man cave with the most authentic old bar/pub feel and decor you might lean to a high quality bristle dart board for authenticity.
Perhaps even one in a classic cabinet. With this in mind we have also looked at the top 5 best bristle dartboards available today in our buyers guide here so if you are looking for that more authentic experience then hop on over and take a look at our top picks.
So yeah, the bristle dartboard invokes that classic authentic feel but they can also be a bit of a pain.
If you are worried about stray darts messing up your walls for instance you might want to go for a bristle dartboard in a large cabinet or alternatively start looking at the electronic dartboard market.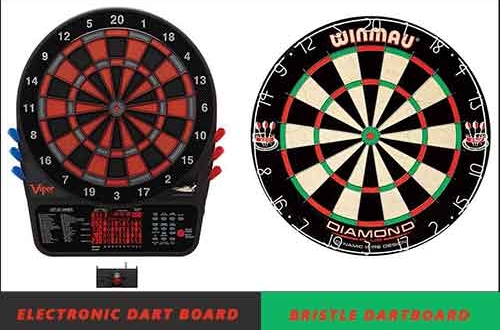 The main selling points of the electronic dartboard are soft tip darts, which are of course safer, and the ability to score your games automatically and have your scores displayed in bright LED screens.
Metal sensor plates in the back of the electronic dartboard track your darts and score giving you and your mates more time to actually play the game.
Electronic dartboards were invented by Arachnid and their commitment to quality is clear since their new Arachnid Cricket Pro 800 is our top electronic dartboard pick of the year.
Electronic dartboards are usually made out of extremley tough vinyl and nylon and are just as durable as their bristle brothers, so from a durability stand point you have nothing to worry about.
Again, there is high quality to be found in both the bristle and electronic dartboard markets so when choosing between them it really does come down to an aesthetic preference more than anything else but once you've made your choice make sure to take Man Cave Mafia's advice on which models to take a longer look at.

The game of darts is a tried and true classic and a wonderfully social game that is a perfect addition to almost any man cave.
Beyond the actual game itself it can also stand as a great centerpiece that can really bring a man cave together and is far easier to setup than an unwieldy pool table or foosball table.
Hopefully if you are on the look out to buy an electronic dart board our reviews and insights have been helpful to you and have helped you make a more informed decision.
We're confident that you can't go wrong with any of our electronic dartboard suggestions so have at it and may many treble 20's be in your future!