Brewing your own beer at home has never been easier. 
One of the great joys of a man cave with a home bar is the luxury of making your drink in an authentic setting and way. With a good quality cocktail shaker you can make some awesome cocktails but when it comes to pouring yourself a beer the authenticity of the experience can lack a bit.
Bottled beer just doesn't have the same taste does it?
What if you could brew your own beer in the comfort of your own home without waiting around for months, learning a bunch of difficult skills and probably causing an almighty mess in the process?
Sounds pretty decent, right?
There is a solution:
Picobrew Pico™ – Craft Beer Brewing Appliance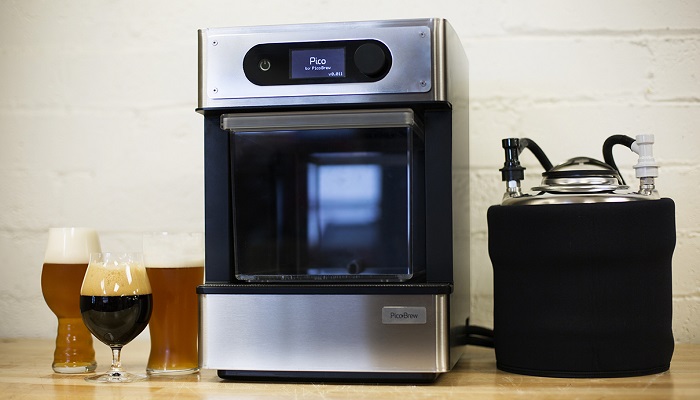 The PicoBrew Pico Craft Beer Brewing system is an incredible compromise between price, effort and performance that allows you to brew your own high quality craft beers in the comfort of your own home.
With the innovative PicoPack system the old days of having to purchase then mix bags of hops and grain are over. Instead you can order PicoPacks which are ready mixed combinations that you literally plug in to the Pico and brew away.
If you are interested in having your own home brewing kit without the extreme price tags of the larger higher end models then the Pico cannot be beaten on price, performance, low upkeep and quality.
 [easyazon_image align="none" height="333″ identifier="B01G715NHU" locale="US" src="https://www.mancavemafia.com/wp-content/uploads/2017/05/41b2bchLsRL.jpg" tag="d09d4f-20″ width="500″]
[easyazon_infoblock align="none" identifier="B01G715NHU" locale="US" tag="d09d4f-20″]
If you are looking to add a home brewing experience that will produce craft quality beer on tap in a (mostly) automated process then the Pico is a great device to achieve just that.
Microsoft Alumni Bill Mitchell and Avi Geiger founded startup company Picobrew five years ago with the intention of bringing software innovation and automation to the home brewing experience.
Securing funding on Kickstarter their first foray in to the business was with the PicoBrew Zymatic, that is in its own right an excellent product but was still ultimately aimed at professional level brewers and required the hand mixing of ingredients.
Not to mention it is twice the size of the PicoBrew Pico and more than twice as expensive coming in at around $2000 to the Picobrew Pico's much less eye watering $800 price range.
The mission statement with Pico was clear: Make an affordable, compact, automated beer brewing machine which automates as much of the grunt work in normal brewing as possible leaving the user with high quality draught beer in an easy and no fuss manner.
Not to mention it's just a hell of a lot of FUN using the Pico! The beer the Pico produces is of exceptional quality but beyond that the taste becomes even better when you have a personal hand in brewing that ice cold IPA yourself.
Is the Picobrew Pico the right beer brewing machine for you?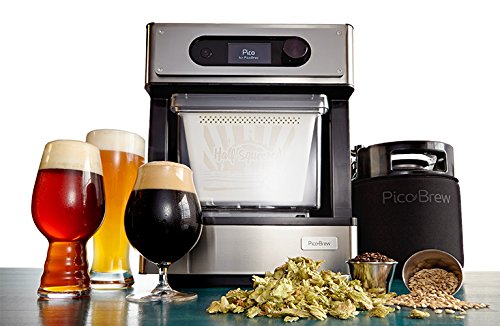 If you are serious about taking your man cave or home bar to the next level and love the idea of brewing your own beer to your own specifications without high-end expenses and effort then the Picobrew Pico succeeds in bridging the gap from prohibitively expensive professional level brewing kits to a compact, easy to use and automated system that produces craft quality beer every time.
With the PicoPak system you simply load the PicoPack in to the machine, tweak the specifications to your personal liking and then let it brew away for two hours.
The leftovers from the PicoPaks are compostable and easily disposed of leaving little to no effort in cleaning up.
Able to produce 5 liters of craft quality beer per brew cycle you can expect to get around 10 of the highest craft beer quality draught pints from one brew or 14.
If you have a home bar then this is an excellent and powerful home brewing machine that automates the hard stuff for you whilst still giving you enough control in the process to feel like you are fully involved with all the fun parts of brewing your own IPA's.
PicoPaks Make Brewing Beer at Home Easier
The PicoPak system takes a lot of the pain and effort out of the process and retailing at around 20$ a pack and each able to produce a 5L mini-keg of beer with recipes from over 150 renowned craft breweries from all over the world; and with custom PicoPaks also on the horizon you will never be out of options when it comes to trying out something new.
If all of that is still not enough of you and you really want to push the envelope you can join the PicoBrew Development program which will allow you to submit your own custom recipes that are then tested and approved by certified BJCP (Beer Judge Certification Program) judges.
If you pass this process you can then sell your own PicoPak recipes on the Brew Market Place right next to all the professional packs from the 150+ breweries!
How much % alcohol can the Picobrew Pico Produce?
The Picobrew Pico™ is a futuristic device with some truly innovative features. Exactly what you would expect from two ex-Microsoft employees that started PicoBrew.
You can easily adjust ABV (Alcohol by Volume) and IBU (International Bitterness Units) which leaves plenty of room for you to experiment with your madcap brewing concoctions to your hearts desire.
With an upper limit of 10% alcohol content you can brew some truly strong brews if you wish that you might be thankful you are able to enjoy on tap in the comfort of your own home!
No designated driver required when you are already at home!
How Automated is the Beer Brewing Process with Pico?
As previously mentioned the Picobrew automated beer brewing device takes a lot of the pain out of becoming a home brewer and has even been touted as beers answer to the home made espresso popularized by DeLonghi.
Brewing with the Pico is a simple enough task.
You first attach the mini-keg which is filled with water and then insert a ready made PicoPak in to the PicoBrew.
The Pico then recirculates that water over a heating element to the desired temp and then mixes it over the grain from the PicoPak to extract the sugars.
The sugary liquid that is produced during this process (called the mash) is called the wort and this contains the sugars that will be fermented once you add the brewing yeast.
The more sugar produced the more alcohol content you end up with.
During this process the options you set previously will be analyzed and applied to the brewing process by the on board computer resulting in a consistent excellence in your brew every single time.
From here the wort is then brought to the boil again by the heating element before the Pico feeds the hops over the wort at pre-programmed times.
Once finished the Pico cools the wort ready for you to add the brewing yeast that comes with your PicoPak to the concoction.
This all takes 2 hours after which you must leave it to ferment and add the carbonate to the mix. From Pushing the button to pouring a pint should take around a week.
Given the steps required to brew beer the Pico will never be an exact equivalent of a Nespresso machine but it comes damn close.
What comes with the PicoBrew Pico Purchase?
One PicoBrew Pico brewing machine
Instruction manual
PicoPak (1 or 3, depending on reward choice)
Drinking keg plug
Dip tube brush for dip tube cleaning
A brewing keg
A dispensing keg
Keg seal
Metal keg lid
Transfer tube
CO2 regulator attachment for dispensing kegs
Cleaning tablets for deep cleaning
Final Thoughts:
The Picobrew Pico™ – Craft Beer Brewing Appliance is an excellent device for anyone looking to start brewing their own home-made craft beer with as little effort as possible.
At $799 the Pico is not an impulse buy item but if you have thought about getting involved with beer brewing but have been off-put by the expense, time and difficulty then the Pico fills that gap in the market superbly.
Well constructed, easy to use and most importantly able to produce the highest quality craft beer the Pico is easy to recommend.
Pro's and Cons
Pro's:
Value for Money
Doesn't require much of your time
Ease of Use
High Quality Beer
Adjustable ABV and IBU
Small Footprint
Con's
Still takes a week to ferment the brew (unavoidable)
Lack of finer control in the automated process.
 [easyazon_image align="none" height="333″ identifier="B01G715NHU" locale="US" src="https://www.mancavemafia.com/wp-content/uploads/2017/05/41b2bchLsRL.jpg" tag="d09d4f-20″ width="500″]
[easyazon_infoblock align="none" identifier="B01G715NHU" locale="US" tag="d09d4f-20″]