When it comes to comfort and relaxation a massage chair is hard to beat. If you're anything like me then there is a great deal of lounging and sitting about going on in your man cave.
The man cave at its best caters to the needs for luxury, relaxation and comfort that we all crave daily and, in true man cave fashion, reaching those goals often means taking it to the next level.
A chair that doesn't do anything but be a boring old chair? In 2017? We can do better than that!
In this comprehensive massage chair buyers guide we will go through the best massage chairs in 2017 on the market today so you can make an informed choice that personally suits you (and your long suffering body.)
Coping with all that stress and all those aching muscles after a long hard slog at work (or play) is something many of us are familiar with.
Hell, it's probably one of the main reasons that a guy wants to build a man cave in the first place. The sheer motivating force to beat back the stresses and annoyances of life is something we all share in common.
The man cave being that place to allow yourself to unwind and let all the hardships of the day melt away can be an immense help with both your mental and physical health.
One great way of coping with all that stiffness and those tense muscles is with a full body massage. Going to work on all those frozen and stiff muscle groups can transform a bad day, or even week, into a pretty good one.
The health benefits of a good massage are numerous and well documented from obvious decreases in stress and unhealthy build ups of cortisol and even in decreases of cardiovascular disease.
Yep, a good massage is something that can put you in a great mood, relieve pain and turn the dial back to zero on those rising cortisol stress levels and leave you feeling fresh and alert for whatever life throws your way.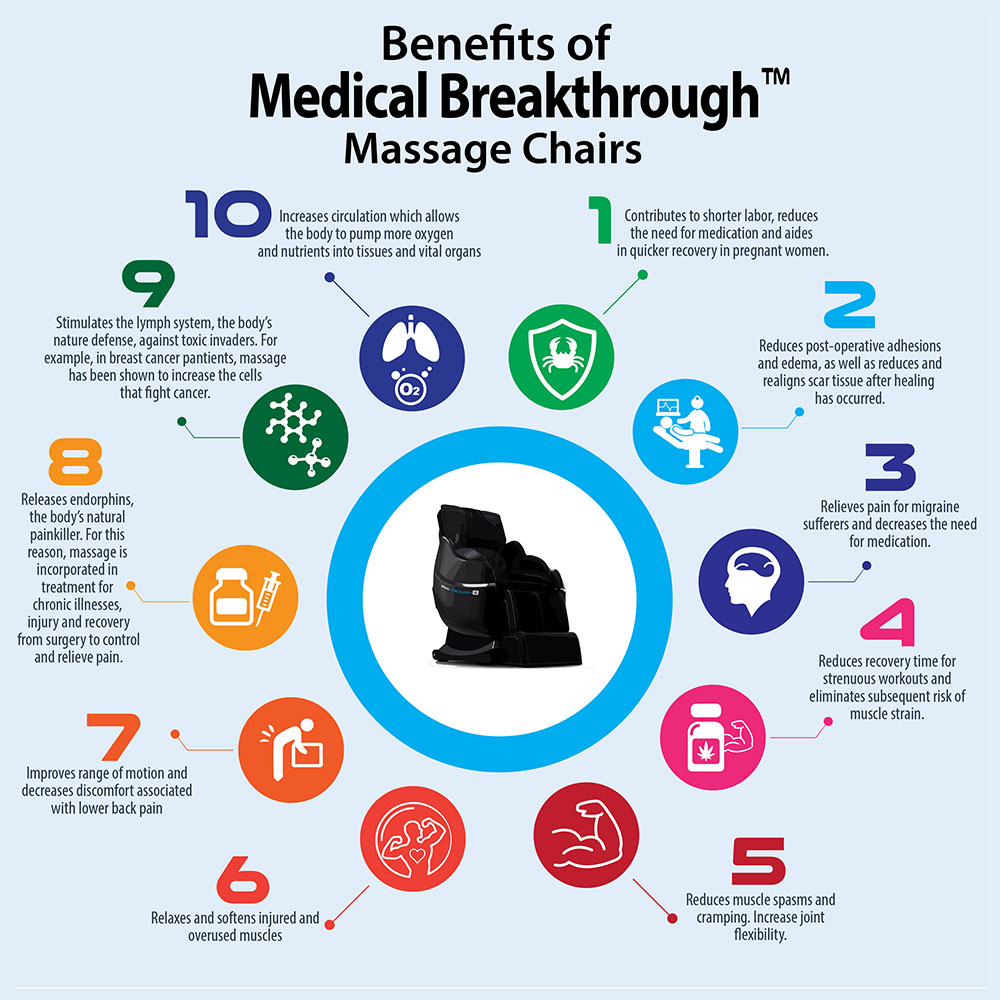 That's all well and good but as we know it's not so easy to get a massage on a regular basis.
If you have an understanding spouse you might get lucky from time to time but chances are they are also dealing with the aches and pains and general stress of life just as much as you are at the end of a hard days work and might have some resistance to being turned in to your personal masseur/masseuse.
You could go to a massage therapist but that's an expense that can rise quickly and finding a decent practitioner can be tough; not to mention the somewhat seedy reputation the industry has these days.
Enter the robotic massage chair:
Imagine the luxury of being able to drop your bags, coat and hat as you walk in to the house and head for your man cave, pouring yourself an exotic cocktail at your home bar as you go, before leaning back in to one of our top pick massage chairs and letting all that Japanese engineering innovation and ingenuity work its magic.
As all the niggling aches and pains are worked out of your body and your mood is lifted, as you forget all about that guy that cut you off in traffic, the rude cashier at the supermarket or your overbearing boss's bad attitude.
Sounds pretty good, right?
I'm surprised that the massage chair has not become more of a norm in American households up to this point. No therapist to travel to and pay.
100% privacy in the comfort of your own home and all provided by your own personal robotic masseuse that never gets tired or complains and is ready to go at the push of a button.
There is a lot to recommend in a decent massage chair.
The robotic massage chair had been around since the mid-50's being brought to market by the Japanese company, Family Fujiryoki.
Japan is easily the largest consumer of massage chairs in the world with some reports indicating that more than 25% of households in Japan have their own.
The rest of the world is slowly coming around to the fantastic health and relaxation benefits of a good quality massage chair and where better to put one than in your man cave?
Top 5 Massage Chairs on a Budget (under $1000)
Decent quality massage chairs are not the cheapest items on the market but there are good options out there that won't totally break the bank.
Here we have put together our researched and tested list of the best massage chairs you can buy on a budget in the $500 to $1000 price range.
---
Real Relax Full Body Zero Gravity Shiatsu Massage Chair plus VR Headset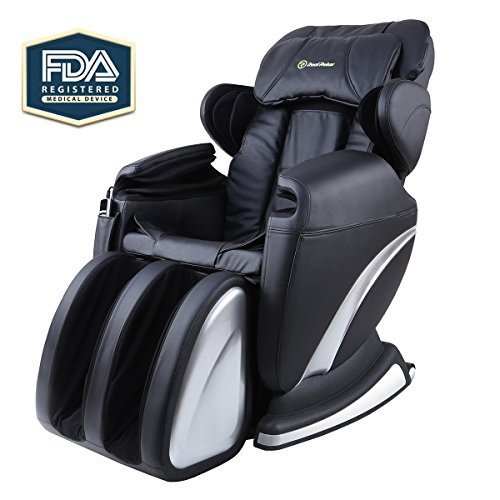 [easyazon_infoblock align="none" cart="n" cloak="n" identifier="B01CJQJYYA" locale="US" localize="y" nf="y" tag="d09d4f-20″]
Coupling both exceptional build quality with an aggressive competitive price tag this massage chair delivers on both price and performance.
This full body massage chair features a lot of what you can come to expect from much higher priced models. Delivered in two separate boxes (main body and arm rests) the Real Relax massage chair is a breeze to setup and will be up and running in no time.
As well as the comprehensive massage options this chair also features a heater in the seat to promote better blood circulation and comfort that works in tandem with a hip compressing motion that really feels amazing.
The only thing missing from this chair is perhaps a few more rollers in the calf and arm sections but this is a very minor quibble when you consider the value for money the Real Relax Full Body Zero Gravity Shiatsu Massage Chair comes in at. (phew, that is a mouthful of a product name!)
This is a good looking chair that looks just as it does in the product photos, is relatively quiet when operating and features a dual mode massage option allowing standard and hard settings. The Zero Gravity recline on this chair also works as is expected.
About the Product:
Warranty (3 years)
Features two different massage programs providing a top quality massage experience
Eight massage wheels built in to the back-panel works in tandem with the other parts of the chair to provide a full head to toe massage experience.
Thirty-five airbags placed strategically across the legs, armrest, seat cushions and shoulder support area that produce vibration heat and pressure to relieve pain and stress in all your muscle groups.
Rollers in the foot rest for massaging the soles of your feet
One size fits all with extendable footrest for taller individuals
The Real Relax massage chair delivers phenomenal performance for the price point.
You are getting a lot of bang for your buck here.
There are a few modes and rollers that you find on higher end models that don't feature here but for thousands less the compromise is a very good one.
---
Full Body Zero Gravity Shiatsu Massage Chair Recliner w/Heat and Long Rail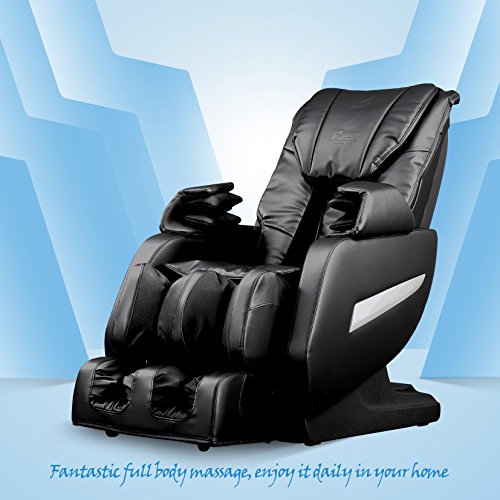 [easyazon_infoblock align="none" cart="n" cloak="n" identifier="B00YGKYJGG" locale="US" localize="y" nf="y" tag="d09d4f-20″]
This entry on our list is another impressive showing in the sub-$1000 massage chair price range that again shows incredible value for money considering the features and build quality you can expect.
The Full Body Zero Gravity Shiatsu Massage Chair Recliner's four settings all feel distinctly different from one another and offer a unique massage experience that closely resembles that of a human massage from a professional therapist.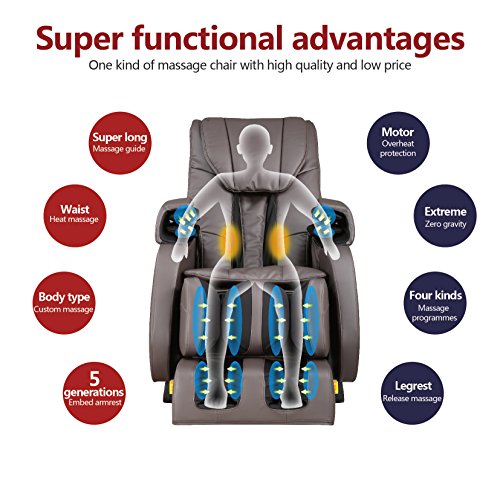 Top notch build quality and easy to assemble upon delivery the full body massage this chair delivers feels like it should come from a much more expensive model.
About the Product:
Full body massage chair recliner
Large head-to-toe massage area that brings relief to your neck, shoulders, back, waist, thighs and hips.
Multiple settings that mimic human touch (programs include: Recover, Refresh, Extend, Relax)
OPTO sensor system that finds your unique shoulder position for maximum efficiency (one size fits all)
Full foot massage roller system
Heated seat cushions that improve blood circulation and well-being
---
Electric Full Body Shiatsu Massage Chair Recliner w/Heat Stretched Foot Rest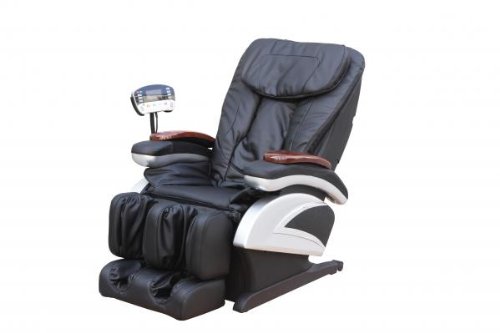 [easyazon_infoblock align="none" cart="n" cloak="n" identifier="B007XA04P6″ locale="US" localize="y" nf="y" tag="d09d4f-20″]
When you're looking for the best full features massage chair on a budget and are wary about price then you can do a lot worse than the Electric Full Body Shiatsu Massage Chair Recliner w/Heat Stretched Foot Rest 06C.
I know right, another really catchy name!
Like our other picks on this list of the best massage chairs in 2017 this chair represents incredible features and performance for a very reasonable price.
Again, this is a great option that holds its own with much higher priced massage chairs on the market.
With plenty of settings and a well built and super comfortable design this is a great option when looking for a massage chair under $1000.
About the Product:
Full shiatsu massage experience.
Heated power rollers and more than 30 airbags adapt and contour to the shape of your back to provide maximum relief.
Percussion and compression massage systems aid in flexibility, rejuvenation and posture.
Zero gravity recliner.
Improved neck massage features that are used to target hard-to-get-to muscles in your neck that melt stress away and leave you feeling refreshed.
---
iJoy-2580 Premium Robotic Massage Chair Review 2017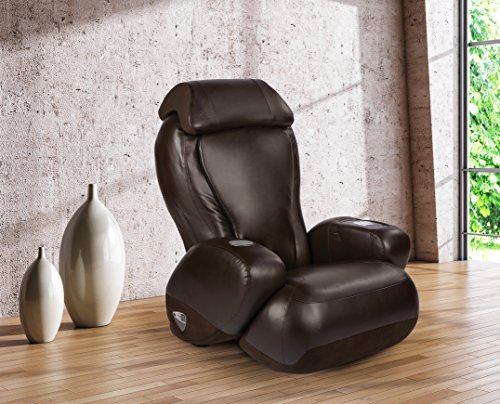 [easyazon_infoblock align="none" cart="n" cloak="n" identifier="B0029PGLGG" locale="US" localize="y" nf="y" tag="d09d4f-20″]
The iJoy-2580 is a sub-$1000 dollar massage chair that not only looks the part but provides an excellent shiatsu upper body massage experience.
Featuring kneading, rolling, percussion, and compression systems to produce an incredible massage on demand this chair is budget conscious but high performance all around.
My only real gripe with the iJoy-2580 is that there are no leg or foot massage options available.
You can buy these features to add to the chair separately although it still would have been nice to see it included.
This is a great chair for the price but I find it hard to recommend over the other choices in this list due to the missing leg and foot massage features.
About the Product:
Three unique massage modes:  (1) Back Refresh (2) Neck & Shoulder Relief (3) Lower Back Release
Reclines back to a 180 degree angle
Built in remote control allowing ease of use
Compact design that won't take up too much floor space
---
Full Body Gaming Shiatsu Massage Chair Recliner with Heat and Long Rail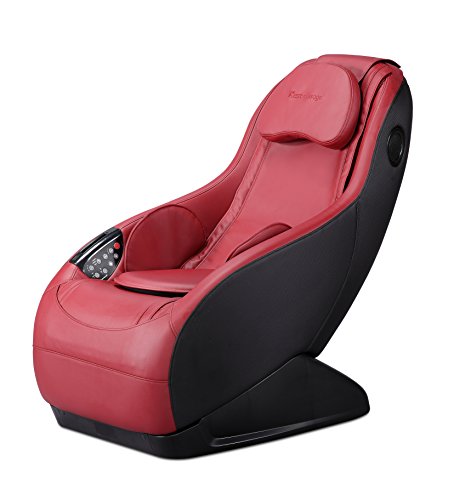 [easyazon_infoblock align="none" cart="n" cloak="n" identifier="B01MDPMOV6″ locale="US" localize="y" nf="y" tag="d09d4f-20″]
Rounding off our list of budget conscious massage chairs is something a little different:
This massage chair aims at being a jack of all trades and doubles, as you may have guessed from the product description, as a gaming chair and even features an inbuilt speaker system that means you get to game in comfort with a full audio experience whilst receiving a full upper body shiatsu massage!
First world problems, right?
It's important to mention that this massage chair looks awesome as well and when you factor in the price point that is ridiculously low for what's on offer you have a sure fire winner.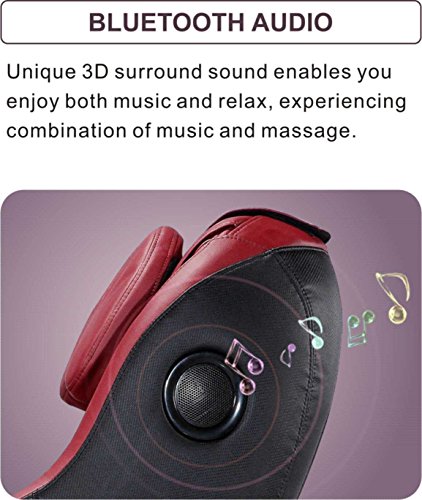 This chair doesn't deliver a full zero gravity massage experience and is lacking calf and foot massage systems but it still manages a very impressive deep tissue massage and for the money this simply cannot be beaten when you factor in all the other features this chair packs in to its compact frame.
Did I mention it looks great? Small, light and snazzy are not descriptions you usually give to a massage chair but here we are.
Fantastic deep tissue back massage releases you from the aches and pains of the day and melts away fatigue
Modern and attractive design
Arm rest features a slot for your phone and other peripherals
3D surround sound speakers inbuilt provide an incredible experience wether gaming, watching TV or listening to music
Small footprint perfect for those with space constraints
---
The Best Premium Massage Chairs 2017
Zero Gravity Full-Body Kahuna Massage Chair Recliner with yoga & heating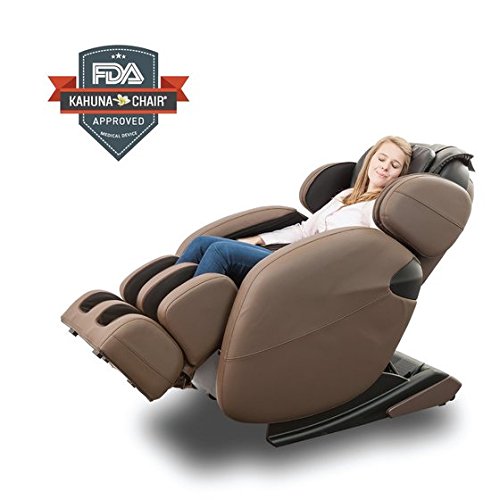 [easyazon_infoblock align="none" cart="n" cloak="n" identifier="B06Y1J8XGC" locale="US" localize="y" nf="y" tag="d09d4f-20″]
For a sub-$2000 massage chair the Zero Gravity Full Body Kahuna is a phenomenal option for the price that is absolutely chock full of cutting edge features often only found on chairs that are thousands of dollars more expensive.
One of the main factors we look in to when suggesting a massage chair to purchase is the price to feature ratio and this is something this chair shines at.
With six distinct setting Yoga, SV-Chiro, Deep Tissue, Stretching, Relax, and Rejuvenate coupled with the fantastic build quality this massage chair comes easy to recommend.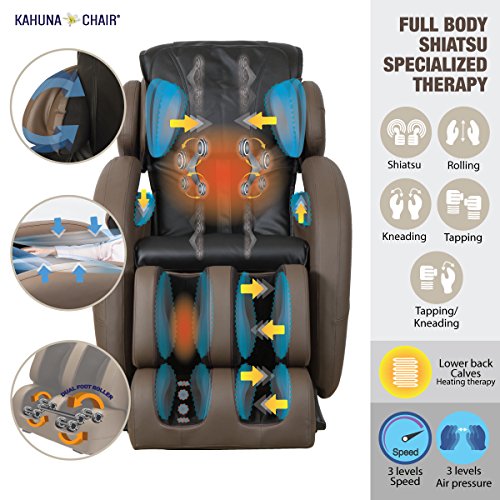 Upgraded as of 07-2016 – Newly designed comprehensive user manual will have you up to speed on this feature rich chair in no time

Three different setting for the zero gravity feature which will recline you to a true zero gravity position with your feet elevated above your chest if desired

Double layer shoulder airbags to relieve pain and stiffness in the neck area

3 year warranty (including labor costs for repairs)

The Kahuna is FDA registered as a Medical Device.

Two level zero gravity setting with L-track system and heating pads

YOGA stretching setting that arches your back for maximum effective deep tissue massage relief
Dual foot rollers that are fully detachable for easy cleaning.
L-Track massage system
---
Kahuna Superior Massage Chair With New SL-TRACK with 6 rollers – SM-7300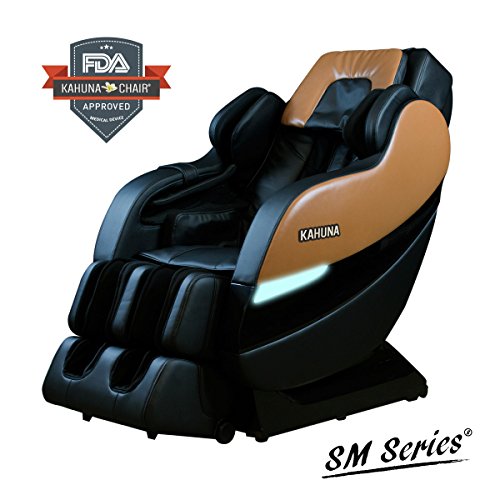 [easyazon_infoblock align="none" cart="n" cloak="n" identifier="B01NA9QHQE" locale="US" localize="y" nf="y" tag="d09d4f-20″]
This Kahuna massage chair is a full body solution with all the bells and whistles and comes in at the mid-range price point but acts a lot like it's counterparts in the 5-6k price range.
This is a definite leap up in quality and it shows.
We take a lot of care to choose the best of the best in class and this massage chair definitely meets those high standards.
Check out some of the many features this chair has:
Five premium massage modes: Yoga-Stretching, Recovery, Pain Relief, Relax, and Refresh deliver a top level massage for any occasion all accessible from the Zero Gravity recline position.
The full gamut of massage chair options available: kneading, tapping, knocking, tapping + knocking, and shiatsu massage means you get the closest to human touch massage every time.
This really is like having your own personal masseur/masseuse in the comfort of your own abode.
The Kahuna-SM-7300 is decked out to the nines with six rollers that provide that long sought after full massage experience. You really do feel enveloped within the experience of the massage with this fantastic chair.
The chair is fully adjustable to fit your body size and can accommodate all body types going up to those reaching 6ft 5 inches and 320 pounds which is perfect for me since that is my actual height! You will never have to worry about this massage chair fitting your body type unless it's at an extreme end.
The Kahuna features space saving technology giving a smaller footprint to operate in than comparable massage chairs in the same class.
 Combinations of airbags exert pressure massage on the legs, buttocks and arms to aid in blood circulation and pelvic alignment.
Three different settings for foot massage alone will leave you purring after a long day on your feet.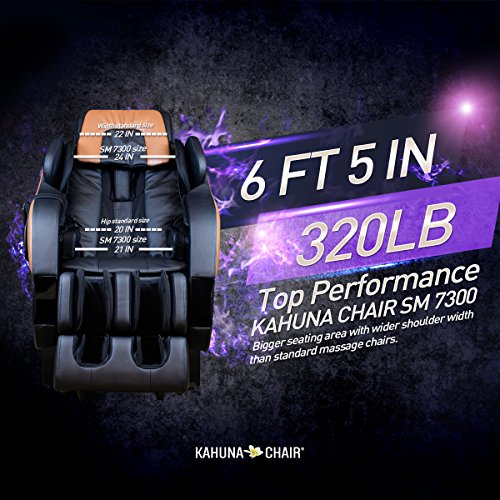 Shiatsu Massage Chair with Jade Heat Therapy, Human Body Scan, Mp3 Synced Massage, 69 Air Bags + More
Another really catchy name on this massage chair, I'm sure you will agree!
Another full massage solution with all the bells and whistles in a sharp and handsome design this is another great choice for your massage chair needs at a competitive price point.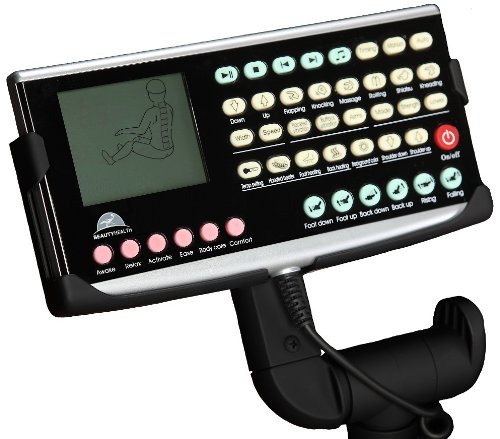 With a wealth of options and massage settings this chair is nothing if not comprehensive, coming with a whopping 24 different head-to-toe massage settings.
This massage chair is capable of the full range of massaging options you come to expect from the highest end models with Flapping, Knocking, Massaging, Rolling, Shiatsu and Kneading capabilities.
This chair is also crammed with rollers and airbags providing the closest to human touch analogue as you're going to find, especially at this price point.
The foot area has 14 airbags alone along with its roller system and the over engineering makes a difference in performance for sure!
Sixty-Four airbags
24 massage pre-programmed settings
Full heat therapy (this massage chair comes with a head-to-toe heat therapy system)
Five speed levels for each massage setting
6 new great auto programs like: AWAKE, PRESCRIPTION, FATIGUIE, PHYSICAL THEARPY, HEALTH CARE AND RELAX
---
Luraco Technologies iRobotics 7 Medical Massage Chair
The Luraco Technologies iRobotics Medical Massage Chair is truly the grand daddy of massage chairs and aims and succeeds in delivering the most comprehensive and quality massage experience possible.
No corners are cut in the design of the Luraco and that is no doubt reflected in the price.
This is not a cheap massage chair by any stretch of the imagination and is aimed only at those that can afford to splash out on the best.
Is that eye watering price tag deserving?
For the most part, yes.
Every bit of technology you can expect to find in a premium massage chair is found in the Luraco iRobotics 7 and then some.
The wealth of options can be overwhelming but once you get the hang of the state of the art touch screen interface you will have no problems and be glad at the ability to customize your massage experience so comprehensively.
The iRobotics 7 features patented massage technology systems coupled with the latest in health and entertainment modes to deliver one of the most futuristic massage chairs ever created.
The 3D massage rollers on The iRobotics 7 deliver absolute control to your fingertips and the ability to dictate the intensity of the massage to the finest degree.
By adjusting the 3D massage rollers back and forwards you can increase or decrease the intensity level of the massage from deep tissue to a gentle more circulatory massage.
This chair features a truly fantastic S-Track roller that means that it can deliver top quality massage to all parts of your neck and spine all the way down to your glutes.
Unlike cheaper chairs the iRobotics 7 adapts to your size and frame meaning you can enjoy the full experience whether you are 5'0 or 6'5 without feeling like you are over or undersized for the chair.
Touch Screen Remote Control
It's 2017 and touch screen phones and tablets are synonymous with our daily lives. Luraco has adopted this technology in to its touch screen remote system giving you complete control with a familiar operating system based on current smartphones like Android and iOS.
Full Body Massage Heat Therapy
The Luraco iRobotics 7 massage chair features a full body heating system which is amazing for chronic pain sufferers with five different levels of intensity.
The Luraco iRobotics 7 massage chair also comes decked out with the tunes! Just add your own music on an SD card in to the touch screen remote and let the chair take over!
Incredible sound quality delivered during the best massage you've ever had in your life?
Sign me up!
And that's just the tip of the iceberg on this stunning massage chair.
Check out some more of the features in this video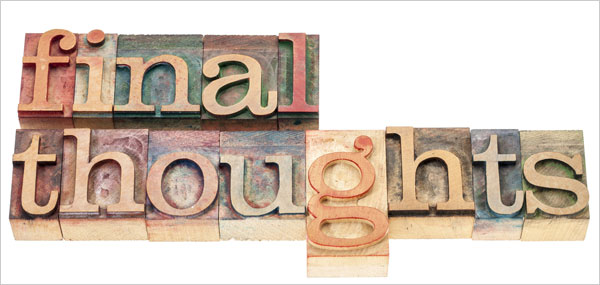 A massage chair can be a big investment and your desire to own one might range from just wanting a nice unwinding experience after a long day or because you suffer with chronic conditions that massage chairs can help alleviate considerably.
Hopefully our comprehensive guide has helped you make a more informed purchasing decision.