No self-respecting man cave or home bar can lack a quality cocktail shaker.
One of the main tools in the barman's arsenal the idea of attempting a cocktail without one is unthinkable.
Take a leaf out of James Bond's book and make those cocktails shaken not stirred. In this comprehensive guide, we will go through the best cocktail shakers for all budgets and make sure you're up to speed on this classic bar accessory so you'll be pouring perfect cocktails like a pro and impressing your friends with your silky skills in no time.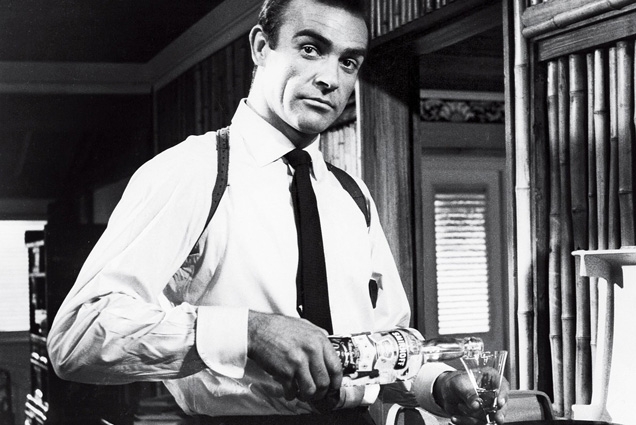 This essential piece of kit comes in many designs and evokes an unmistakable air of classiness and style. If you don't have a decent cocktail shaker you are definitely going to want to get one and that's what this guide is here to help you with.
Whether you're shaking up a Dry Manhattan or a Strawberry Daiquiri or perhaps something even more exotic do it in style with one of our top cocktail shaker picks.
---
Top 5 Best Cocktail Shakers 2019
Blusmart Cocktail Shaker Stainless Steel Review 2019
The Blusmart Cocktail Shaker Stainless Steel Cocktail Shaker is a French / Parisian Style shaker that comes complete with a Hawthorne strainer. Made from stainless steel the construction and sleek design are both top notch.
This shaker gets cold really fast to the point where you might have to use a towel to shake your cocktails if you do more than a few in a row.
The Blusmart Cocktail Shaker Stainless Steel Cocktail Shaker is an excellent choice for your home bar. Sleek, durable and certain to never tarnish this is a great choice at a reasonable price point.
That quick chill is great news for your cocktail's but the metal can contract slightly making the seal hard to break after shaking.
This is a minor quibble though and transferring some hand heat around the lip will do the trick in the rare case that the seal becomes stuck.
| | |
| --- | --- |
| Product Dimensions | 10.5 x 4.9 x 3.9 inches |
| Item Weight | 12 ounces |
---
Boston Shaker Premier 28 Ounce Quality Stainless Steel Weighted Cocktail Shaker and 1 Pint Mixing Glass Review
[easyazon_infoblock align="none" cart="n" cloak="n" identifier="B00OM1MUGK" key="image" locale="US" localize="y" nw="n" nf="y" tag="d09d4f-20″]
This brilliant Boston shaker is bold, beautiful and elegant in equal measure. Perfectly weighted this shaker is all about build quality and perfection all wrapped up in a simple and stark classic design.
The pint glass is extremely durable and heavy duty and is made of tempered glass so you won't have to worry about chipping the glass whilst mixing.
Engineered with enthusiasts and professionals in mind this shaker is also suitable, due to it's perfectly weighted characteristics, for cocktail shaker tricks as used by flair bartenders.
Add to that an online video tutorial series that you can access when you buy this shaker and you or the one you are gifting this stunning shaker to will be a pro in no time!
This is a professional level shaker without, thankfully, the professional level price tag.
An excellent choice for your man cave or home bar this is a shaker you simply can't go wrong with.
| | |
| --- | --- |
| Product Dimensions | 10.7 x 4.4 x 4.3 inches |
| Item Weight | 1.2 pounds |
---
MIXTURE CLUB 24-Ounce Cocktail Shaker with Double Jigger Review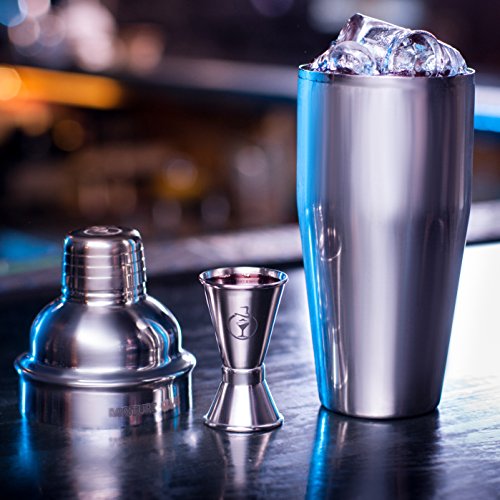 [easyazon_infoblock align="none" cart="n" cloak="n" identifier="B01H591D54″ locale="US" localize="y" nf="y" tag="d09d4f-20″]
| | |
| --- | --- |
| Product Dimensions | 9.6 x 3.7 x 3.7 inches |
| Item Weight | 11.2 ounces |
This high quality 24 ounce cobbler style shaker from Mixture Club is an excellent addition to your home bar and comes with a 1 & ½ oz. double jigger, two silicon sleeves and two cocktail recipe books!
That's what I call value for money!
With the exceptional build quality and attention to detail, this striking shaker will surely elevate any man cave's home bar to the next level.
I was especially impressed with how clean the lines are and the brushed metal finish just looks gorgeous up close. Whether your cocktail of choice is mixing a Long Island Ice Tea or a Bloody Mary this is more than up to the task no matter what you throw at it.
---
Julia Knight Classic Cocktail Shaker, 9.25-Inch Review
[easyazon_infoblock align="none" cart="n" cloak="y" identifier="B005O22NBS" locale="US" localize="y" nf="y" tag="d09d4f-20″]
This stunning shaker is all about its unmistakable vintage style.
Enamel panels infused with mother of pearl adorn the body of this cobbler-style shaker that harks it back to the roaring twenties and the Jazz Age as shakers really took off in the States.
This shaker isn't all about looks though and is an incredibly functional device that will give you years of service, but let's be honest, this is a thing of beauty that will immediately catch the eye of anyone in the vicinity and impress your guests without fail and that's the real selling point here.
This shaker also comes in a number of different colours to choose from.
For the build quality, design and sheer beauty of this shaker it's an excellent deal that would make an equally excellent gift for that budding bar-tending mixologist that is also a sucker for that vintage 20's charm.
| | |
| --- | --- |
| Product Dimensions | 1 x 1 x 1 inches |
| Item Weight | 10.4 ounces |
---
ZACK 20120 CONTAS Cocktail Shaker Review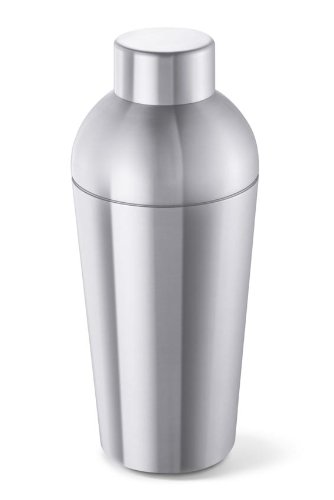 [easyazon_infoblock align="none" cart="n" cloak="y" identifier="B0016OI6FK" locale="US" localize="y" nf="y" tag="d09d4f-20″]
This almost urn style brushed metal cobbler will certainly turn heads when you produce it from behind the bar to mix your guests their cocktails of choice.
Featuring clean and smooth design and excellent heat conductivity this is a great choice for your bar-tending needs.
| | |
| --- | --- |
| Product Dimensions | 3.3 x 3.3 x 7.9 inches |
| Item Weight | 14.1 ounces |
---
Top 5 Best Luxury Cocktail Shakers 2017
Sometimes you just need to push the boat out a little bit and if you're going to spend a little extra on an item for your man cave or are buying a gift for someone with a home bar then a high-end quality cocktail shaker is not a bad way to spend your hard earned money.
These five picks ranging in the $100-200 range are not cheap but represent a truly exceptional and striking collection of luxury shakers that will elevate any home bar.
We have taken a close look at each shaker and narrowed it down to our personal top 5.
Take your pick!
---
Authentic Models Lighthouse Cocktail Shaker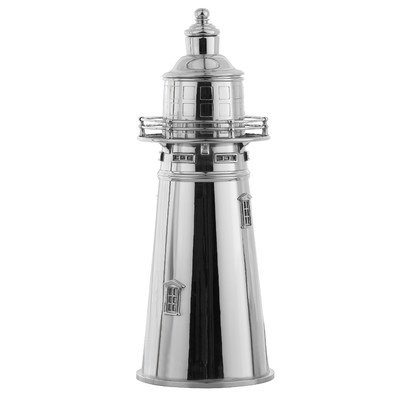 [easyazon_infoblock align="none" cart="n" cloak="y" identifier="B000SKLDT4″ locale="US" localize="y" nf="y" tag="d09d4f-20″]
This luxury shaker is designed to look like a lighthouse and features incredible craftsmanship and artistic vision.
Unique shaker designs were all the rage in speakeasy bars during the 1920's so as to be inconspicuous in the event of a raid by the police during the prohibition era.
Made from heavy silver plated brass this is a weighty and sturdy shaker that also takes extreme care in its attention to detail making this one of the most elegant and unique shakers I've had the pleasure of using.
It functions perfectly at its job as a cocktail shaker, but I'll be honest it can be hard to use it for its intended use because it's just so dang pretty!
This is an amazing piece of functional art and a perfect gift for a man cave, home bar or rec room.
| | |
| --- | --- |
| Product Dimensions | 16 x 7 x 7 inches |
| Item Weight | 4.1 pounds |
---
Premium Hammered Solid Copper Cocktail Shaker Set Review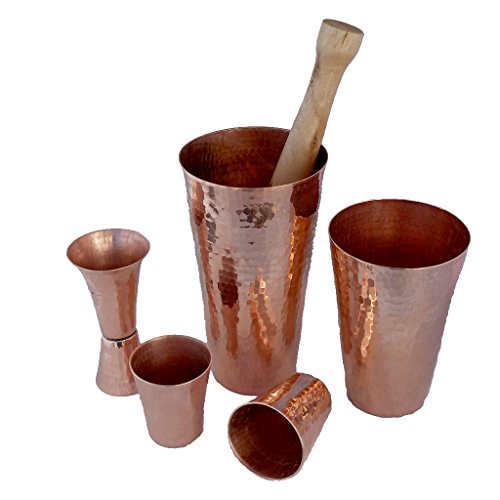 [easyazon_infoblock align="none" cart="n" cloak="n" identifier="B013PJKGBK" locale="US" localize="y" nf="y" tag="d09d4f-20″]
This hammered copper cocktail shaker set is an excellent choice as a gift for the budding mixologist in your life.
As well as the Boston two cup shaker this cocktail set also comes with a fluted jigger and two shot glasses (both also copper), a wood muddler, a Cape Cod polishing cloth and a Velvet Prince of Scots Storage Bag making this a complete solution for a full-on classy bar mixing experience.
Why copper?
Copper is a brilliant conductor of heat and by the same extension cold, so you can be sure of an icy cold cocktail every single time.
Used often for mule mugs as well, the copper cocktail shaker beyond its practical application also looks stunning and is a real decorative treat for your home bar that can't help but draw the eye.
This is an excellent luxury cocktail set that you will love for years to come.
Keep in mind that copper will age naturally over time but periodic polishing will keep it gleaming without too much trouble.
| | |
| --- | --- |
| Product Dimensions | 10 x 5 x 5 inches |
| Item Weight | 2.3 pounds |
---
Picnic Time 'Manhattan' Insulated Two-Bottle Cocktail Set
[easyazon_infoblock align="none" cart="n" cloak="y" identifier="B000QTUJWO" locale="US" localize="y" nf="y" tag="d09d4f-20″]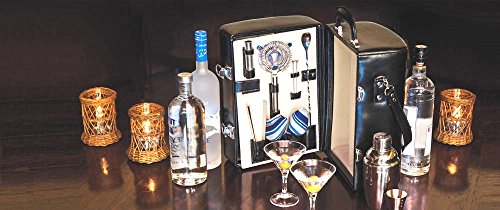 This stunning all in one mobile bar cocktail solution is another outstanding gift choice.
Coming packaged in a Manhattan premium leatherette cocktail case this cocktail set comes with a stainless steel cobbler shaker, jigger, ice tongs, Hawthorne strainer, olive picks, stirrer and napkins.
The bottles and glasses shown in the image above are sold separately.
Available in both mahogany and black finish this is the ultimate solution for your home bar needs but due to the case is also portable should you be inclined to venture out from your man cave into the big wide world for a bit of classy picnicking.
Beautiful attention to detail and construction this is a premium set that is nonetheless very competitive on price.
| | |
| --- | --- |
| Dimensions | 10.5 x 10.2 x 14 inches |
| Item Weight | 2.9 pounds |
Alessi 17-Ounce Cocktail Shaker, Satin Finish
[easyazon_infoblock align="none" cart="n" cloak="y" identifier="B000BNDJI6″ locale="US" localize="y" nf="y" tag="d09d4f-20″]
From Alessi, the world-famous Italian home housewares and kitchen utensil company, this awesome cocktail shaker was designed by Luigi Massoni and Carlo Mazzeri in 1957 and can be seen in high-end bars around the world.
As beautiful as it is functional, the Alessi cocktail shaker also comes with a removable cap and inbuilt strainer.
This is a piece of art as much as it is a shaker and whilst it comes in at a high price (hence it's inclusion in the luxury section) you get a truly authentic piece of barware history to enjoy for a lifetime.
Martini's just taste better made in this work of art!
---
Premium Stainless Steel Bar Shaker & Cocktail Mixing Set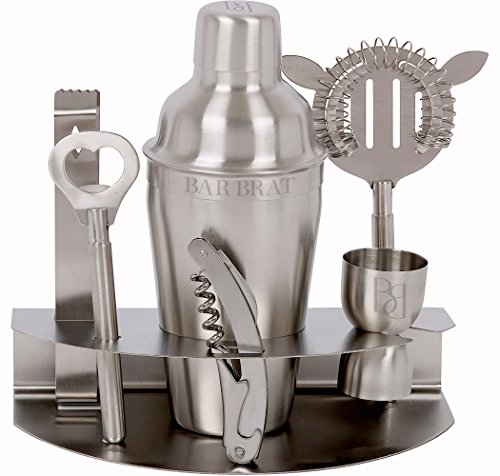 [easyazon_infoblock align="none" cart="n" cloak="y" identifier="B0189D4190″ locale="US" localize="y" nf="y" tag="d09d4f-20″]
Last but not least on our rundown of the top 5 best luxury cocktail shakers in 2017 is this handsome all-in-one cock-tailing solution from Licentia.
This is a beautifully constructed 7-piece stainless steel cocktail set that comes with a 550ml shaker, bottle opener, ice tongs, double-sided spirit jigger, corkscrew, strainer and a stainless steel stand.
Another great gift idea this premium set will never rust or fade.
You can feel the high quality when making your drinks and there is nothing this set won't be able to handle with ease. This is a brilliant all-in-one home bar solution.
| | |
| --- | --- |
| Product Dimensions | 8.7 x 5.7 x 5.1 inches |
| Item Weight | 1.9 pounds |
The Three Types of Cocktail Shaker
Cocktail shakers today come in three distinct styles and all serve the same essential purpose of mixing ice, alcohol and mixers together to create a consistently (and quicker) cooled and even cocktail.
This isn't rocket science folks.
The Boston Shaker
The Boston shaker is a classic of the bar tool arsenal. The quintessential shaker for the professional or amateur barman.
This two-piece setup relies on the shaker itself, an open metal tumbler shaker tin, usually around 22-28 oz, and a tempered glass that fits snugly inside creating a natural seal that allows the mixing to occur.
Once mixed a tap on the tumbler with your palm dislodges the seal allowing for straining and pouring.
It takes a bit of a knack to getting the hang of at first but is easy enough with a little practice.
This two piece setup can also be used in the process of stirring and muddling.
An important thing to remember when using a Boston shaker is that the mixing glass used with it is not a regular pint glass despite looking similar.
The mixing glass is designed specifically for the Boston shaker, is heat treated differently and is sturdier than your usual pint glass that can be prone to chipping or cracking due to the vigorous motions forced upon it whilst shaking, often occurring once you try and separate the glass from the metal shaker.
You can get away with using a regular glass but it's important to keep this in mind because one tiny chip will ruin the entire cocktail.
Some cocktail enthusiasts and barman prefer to use a second metal tin in place of the glass but whichever way you choose to go the idea is essentially the same.
Many kits come with a strainer but some don't so also make sure you either already have one or are getting one before starting the party!
Another great thing about the simplicity of the Boston cocktail shaker is that it can be used as a stirrer or a shaker coupled with either a Hawthorne or julep strainer.
It's a multi-purpose mixer for all your mixology needs.
This is simply a classic must-have item and a personal favourite of mine.
---
The French / Parisian Shaker
This two-piece shaker is very similar to the Boston shaker but instead uses a smaller metal cup in place of the mixing glass favoured with the Boston.
French style cocktail shakers look amazing but are rarer to see these days compared to the cobbler and Boston designs.
Unlike the cobbler, it doesn't come with an inbuilt strainer so that should also be considered when purchasing.
I love the French / Parisian style shakers and would recommend them to anyone looking to bring a touch of classiness to their home bar. If you stump for one of these then spend a little extra to get something really special.
---
The Cobbler
I'm sure you are all familiar with the cobbler cocktail shaker.
One of the most common shakers on the market this three piece shaker comes with an inbuilt strainer that is capped off with a metal lid when shaking that can double as a measuring cup.
Slightly easier to use than the other shakers this is a firm favourite for good reason.
---
Cocktail strainers
When using a French of Boston style cocktail shaker that lacks the inbuilt strainer of the cobbler you will need a strainer to go with it. There are two common types that you can choose from:
The Hawthorne strainer features a metal coil to catch the ice and other bigger ingredients you don't want in your cocktail.
Used coil side down it fits on top of the Boston or French shaker after you are finished mixing your drink and is held in place with a finger as you pour guaranteeing a perfect cocktail every time.
The Julep strainer resembles a large spoon with holes in it and is used with the mixing glass.
It is used a lot with stirred drinks since it stops large chunks of ice but allows smaller ingredients to flow through if a less fine strain is preferred depending on the cocktail.
---
History of the Cocktail Shaker
It's safe to say the cocktail shaker has been around for an incredibly large amount of time at least in concept. Stretching back as far as 7000 BCE in South America evidence exists of gourds being used to mix fermented alcoholic beverages.
The Spanish conquistador Hernán Cortés in 1520 in correspondence with King Charles V of Spain spoke of a beverage made from Cacao that was served to froth from a golden vessel to Montezuma II with great pomp and circumstance.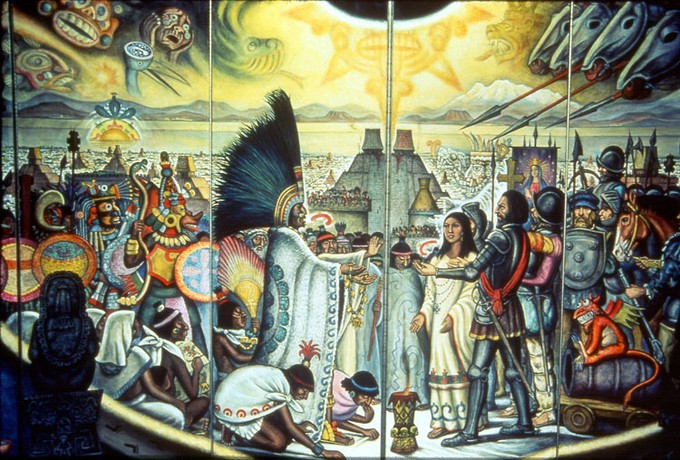 The Ancient Egyptians, never one to miss a trick, are also known to have mixed and shaken spices in alcoholic drinks as far back as 3500 BCE.
Clearly, the idea that shaking alcoholic drinks with mixed ingredients can often create a very pleasant beverage that rises above the sum of its parts has been known to humans for a long time.
Fast forward to the late 19th century and to an innkeeper that notices one of his glasses, smaller than the others, fitted snugly within his regular glasses.
Using both glasses to shake up a drink in front of some of his customers as a "bit of a spectacle" the modern cocktail shaker was born.
In this era of innovation, it wasn't long before all sorts of designs were on the market.
It was 1920's during the Prohibition Era in the United States, exactly 400 years after Cortes had witnessed Montezuma being served from that golden cocktail shaker that this humble metal contraption for mixing drinks would take on cultural significance.
Produced in many sizes and shapes it became an essential item of the underground bar scene during the Jazz Age of the '20s.
A barman's skills with the shaker were to be admired.
Some truly beautiful and innovative antique shakers exist from this time. With the small kerfuffle that was World War II, cocktail shaker production was stopped entirely and switched to the war effort and the business of making bullets and other munitions.
However, that put our trusty cocktail shaker on ice until the 50's where it would gain a huge resurgence in popularity during the housing boom as recreation rooms with home bars become popular.
Cocktail shakers as seen being used by famous actors on the silver screen became a symbol of sophistication, class and "the good life."
That's right, folks.
The original man caves have their part to play in the cocktail shakers popularity.
As I said, no self-respecting man cave can exist without one!
A symbol of sophistication, class and "the good life"