Guide Updated for 2019
Foosball is an awesome game to play with friends and a foosball table is a perfect addition to your man cave or games room.
Easy to pick up but difficult to master, foosball is a welcoming game to all skill levels and always guaranteed to keep you and your friends entertained.
In these days of technology permeating every aspect of our lives, including our leisure time, it's nice to go back to a tried and true favourite like foosball for that tactile and old school classic experience.
The foosball table had stood the test of time and is one of the classic pieces you expect to see in a games room or man cave.
For good reason, too. It's the perfect game for you and a small group of friends to while away a few hours on whilst enjoying a nice homebrew or cocktail.
Everything about the game of foosball fits with the philosophy of the man cave and what it represents as a masculine hang out area to unwind and have some fun.
Buying your own foosball table is a great investment and is not only something to be enjoyed whilst actually playing foosball itself. The aesthetics of a great foosball table also add a great element of decor to your games room.
From flashy, modern and stark to classy, old fashioned and debonair there are plenty of different styles of foosball table to choose from but you are still going to want to be aware of what represents real quality in the foosball table market.
That's where we step in, glad to take on this fabulous soccer based game and review the top 5 best foosball tables for you to buy in 2017.
So without further ado, let's delve right in then, shall we!
Top 5 best Foosball Tables under $1000 IN 2019
Carrom 525 Signature Foosball Table (Burr Oak)
The Carrom 525 Signature Foosball Table in Burr Oak is an exceptional foosball table that is incredibly hard to beat on a sheer price to quality ratio.
This smart looking table is sturdy in its construction and will for sure stand the test of time. With 1″ thick side panelling in burr oak, this foosball table is perfectly weighted, beautifully constructed and just brilliant value.
Yes, you're still looking at a pretty penny to get a Carrom 525 but this is a real deal centrepiece foosball table that will be the envy of your guests and provide hundreds of hours of fun and can bring a family recreation room, man cave or games room to life.
This table has everything. The legs can be levelled at different heights to counteract an uneven floor and the levelled playing field has no dead zones resulting in a fluid and fair game of foosball every time.
The corners have mini ramps to prevent the ball from getting caught and 8 hollow aluminium rods fit snugly into the frame and are finished off with polished wooden handles to pull the whole unit together.
This table also comes with a laminate finish making sure that it will put up with plenty of wear and tear with ease.
Carrom was also smart enough to remember the fantastic relationship between foosball and an ice cold beer and have catered to such a perfect union with four cup holders built into the stand so you can keep your beer close at hand and your eyes on the game!
This is just a fantastic foosball table option all around and we can't recommend it highly enough here at Man Cave Mafia.
If you're looking for a centrepiece foosball table and don't want to break into that bracket of $1000 and above then look no further than the Carrom 525.
For the price, it can't be beaten. It's not me just me that's blown away by this foosball table either. There is overwhelming positivity from plenty of reviewers who are also very happy with the quality on offer here for the price.
Eight hollow aluminium rods with a wood polished finish
Burr Oak panelling
Two sets of Foosball Men, one weighted for more tournament style play and one painted included
Four Beer cup holders (Approved!)
Abacus-style scoring
Product Dimensions: 55 x 29 x 36 inches ; 162 pounds
If you're looking to buy a foosball table to put the final flourish on your man cave or games room then go here to check it out on Amazon.
---
Warrior Professional Foosball Table
The Warrior Professional Foosball Table is–by the name you had probably guessed–a professional tournament grade foosball table that is ITSF (International Table Soccer Federation) and USTF (United States Table Soccer Federation) endorsed that thankfully doesn't come in at a tournament grade price!
Built with not only professional play but safety in mind as well, the Warrior Pro table comes with a unique rod guard system that helps to prevent injuries in fast and frenetic games and means its safe for kids and adults alike.
The Warrior Pro comes in a sleek black design which exudes a stark and professional aesthetic and will look stunning in your man cave or games room.
If you're going for that more professional and spartan look as opposed to a more traditional wood finish then this really is a head turner and won't fail to impress your guests.
The attention to detail and care that goes into a foosball table like this for the price is very impressive.
All in all this foosball table is a fantastic purchase coming in at an extremely competitive price for the quality of construction and tournament level play it offers.
If you're serious about foosball and want to play at as close to a professional level as possible without an insane professional-level price tag attached then look no further than the Warrior Pro as it storms into our top 5.
Incredible Value 

Counter Balanced Men

Unique Rod Guard system for the safety of players of all ages

Pro Level Quality play

Fast and easy to assemble with one simple Tool.

Dimensions: 56 x 32 x 36 inches
You can check out further reviews and purchase the Warrior Professional Foosball table at Amazon, here.
---
KICK Foosball Table Splendor
The KICK Foosball Table Splendor muscles its way into our top 5 with a combination of its elegant look, exacting design standards and great price. Three things I'm always on the look for and this table has the trifecta.
This is another extremely low priced table when you take into consideration what's on offer here.  There is serious bang-for-your-buck going on here.
This is a premium grade foosball table that comes in a lovely elegant and durable wood finish with adjustable casters on the legs, two sets of foosball men, one weighted and one uninformed and even a couple of welcome cup holders for your brew.
An excellent option for those wanting a premium look and feel coupled with a great foosball experience all in one for a very competitive price. For all those reasons and more it deserves a place on our top 5 rundowns.
Extremely Durable and Elegant

Comes With Counter Balanced Men Set AND Uniformed Men Set

KICK Brand Quality

Unlimited Lifetime Warranty

Dimensions: 55″ L X 30″ W X 36″ H
You can check out and buy the KICK Foosball Table Splendor from Amazon here
American Heritage Carlyle Series 
The American Heritage Carlyle Series foosball table is an absolute stunner to look at and will undoubtedly not fail to turn the heads of your guests.
This is not only a fantastic foosball table but a great piece of furniture in its own right and a perfect centrepiece for your man cave or games room.
The maple wood finish and vintage design give it an elegant but sturdy look.
It's one of the more expensive tables on our list but still an incredible bang for your buck when you consider what you're getting for the price. That sentiment can extend to all the tables on our list but I still think this one might be the most good looking.
One of the great things about foosball tables is how they can really bring a man cave together like the missing piece of the puzzle and if the rest of your man cave decor takes inspiration from high-end gentlemen's clubs, as so many man caves do, then the Carlyle beautifully fits in with that aesthetic whilst still bringing a tournament grade foosball experience every single time.
Handsome table with a classic parquet playing surface

Maple veneer accented by a deep finish

Manual scoring system

Quality construction of players and rods

Dimensions: 30.5L x 62W x 34.5H inches
Check out or buy the American Heritage Carlyle Series Foosball table at Amazon here.
---
Garlando G-500 Indoor Foosball/Soccer Game Table
This beautiful, clean and understated foosball table is a fantastic option with its butcher block style cabinet and exacting construction. The Garlando G-500 is a truly premium foosball table and that shows in abundance from its construction quality.
There is something particularly striking about this table that really draws me in.
This is an easy to assemble a table that will give you years of quality entertainment and top-level foosball play and coupled with that has the looks to proudly sit out on display in your man cave without being an eyesore because this is as much an elegant piece of furniture as it is a top-level foosball table.
What's not to love!
Elegant butcher block design
Easy to assemble

Manual scoring system

Dimensions: 56″L x 30″W x 34.75″
---
Tornado T-3000 Foosball Table with 1-Man Goalie
The Tornado T-3000 is another absolute beast of a table with a strong aesthetic and timeless coin-operated design.
If the American Heritage table reviewed above is all about classic lines and elegance then the Tornado goes the other way with a strong and sturdy industrial design.
This top-flight table is as sturdy as they come but that doesn't mean that there isn't a lot of finesse and workmanship put into this utilitarian design.
• Colourful exterior logo placards
• Competition handles
• Game and match score counters
• Patented 3-piece bearings
• Counterbalanced players
• Precision-ground red ball
• Positive 9-ball drop
• Clear playfield trim
Complete Table 36" 30" 56" 355 lbs
Box #1 10" 52.5" 58″ 171 lbs
---
Foosball Table Buying Guide. What to Consider:
We here at Man Cave Mafia are committed to only recommending the best products in their class and rate everything on a price/quality ratio.
We are extremely confident that you will be happy with any of our suggestions but if for whatever reason you want to look at another model of foosball table here are a few common sense things to look out for:
Your regulation standard foosball table is 56-inches long by 30-inches wide but this importantly doesn't take in to account the rods installed after assembly.
Keep this in mind so as to make sure you have enough space in your man cave, games room or family room to place your table and, remember to also have enough clearance for players on both sides which is another important consideration easily forgotten.
A proper foosball table is a sizable object and so having a place planned for it beforehand seems like a pretty good idea. And we like good ideas, right!
---
Reputable Foosball Table Brand
When dealing with more expensive items like a foosball table you want to be doubly sure you are making an informed purchase and one way to do that is to look at the top foosball table brands since they are trusted within the industry, have many satisfied customers and are known for a history of quality.
Here are a number of the best brands in the foosball table marketplace today.
The Tornado Foosball Company founded 1982, has been in the foosball table business for a long time and are committed to exacting standards and build quality of their tournament level play foosball tables. A ubiquitous brand if ever there was one of these tables are very popular.
The Carrom Company is a great foosball table manufacturer based out of Ludington, Michigan and has been in the business since the 1890's! That's well over 100 years last time I checked. Proud of their commitment to only hiring American workers and supporting the local economy Carrom foosball tables are the highest quality and a great company to support.
Warrior Table Soccer is committed to making the highest level tournament standard foosball tables available today. They even sponsor a pro league of which their table the Warrior Pro Foosball Table is the official table. We love this table so much it made our top 5 so make sure to read our review on the Warrior Pro above if you haven't already. This company is all about the pro foosball scene and their tables cater to serious players.
KICK is a company that loves foosball and their goal (mind the pun) is to make high-quality foosball tables as affordable as possible. The mantra is clear over at KICK. High quality and low cost. You won't find any skimping on the engineering standards here but you will find competitive prices. Just as I like it.
Atomic are owned by DMI/Sports / Escalade Sports company and are relatively new on the scene. Their claim to fame is their new design for the foosball men featuring a wider toe area called the "hammerhead" that is meant to aid in better control and trick shot opportunities. Whilst these are not rated for tournament play they are a great home option.
DMI sports are a large sports goods company with a worldwide reach and are leaders in the field. This is a big company that cares about their products and customer support and their tables reflect their desire to make top quality equipment.
Another big sports and recreation manufacturer EastPoint Sports is a fantastic company that excels in high-quality foosball tables and in quality across everything else they produce.
Triumph Sports are another well-run company that is totally committed to quality assurance and makes sure their foosball tables and other products are continuously checked through the production process. Two of my favourite words again, commitment and quality, but I do enjoy well made and carefully produced products.
These are some of the top foosball brands out there today. When purchasing a foosball table from one of these companies you are sure you are getting quality.
There are other reputable companies outside this list for sure but this is a decent rundown of the top companies, just keep to the general rule of checking a bit into a companies background to make sure they have experience and trust in the field. A good rule for any purchase.
Unless you are looking to get a custom built foosball table or a vintage foosball table then staying within these brands when looking to make your purchase is a good idea.
---
Foosball Table Construction Materials
This might seem like a no-brainer but do make sure that the foosball table you are looking to purchase is built from high-quality materials.
You don't want your brand new foosball table to arrive and for it to become abundantly clear that it's a rickety, shoddily built mess made out of faux woods and plastics.
Foosball by its very nature demands a sturdy and fixed table to make the game playable at all.
All of the foosball tables we recommend in our top 5 are made with the best materials and to exacting standards making sure your foosball game experience is quality every single time, but if you're not going with our suggestions then keep an eye out for the construction materials used and avoid low-end imported foosball tables like the plague!
You may shave a couple of hundred bucks off the price of a premium table from a reputable brand but in the long run, you will simply be left with a shoddy imitation of what a quality foosball table is meant to be and you can definitely forget about any top level tournament level play.
---
Foosball Table Surface Finish
This really goes back to the construction materials used and the care of the craftsmanship taken in construction but it's worth noting in its own section.
When playing a proper game of foosball you want to make sure the surface is true and the ball rolls evenly and freely and that you can pin and manoeuvre to the ball with minimal effort.
Most foosball tables come with hard laminate surfaces but some cheaper models might not.
An even and polished surface is a mandatory consideration and doesn't accept any poor quality or scuffed finished on your surfaces.
Foosball Goalie Configuration: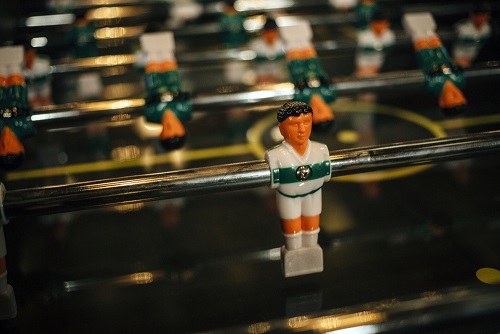 Foosball is played with either one goalie or three goalie configuration. The professionals rely only on a single goalie and is reserved for higher level play whilst the three goalie configuration is great for beginners and kids.
Most foosball tables on the market today allow for re-configuring to a single or three-man goalie setup but is another thing to check depending on how you want to play.
---
Foosball Ball Return System
Another often overlooked aspect when purchasing a foosball table is the ball return system.
Without a ball return system that quickly drops the ball in to a compartment for easy access when playing you will be forced to retrieve the ball by pulling it out of the goal table side which can be awkward, time-consuming after every goal and also cause damage or injury if someone moves the rod whilst your hand is stuck trying to fiddle for the ball.
Almost all foosball tables beside the cheap knock-offs I'm trying to steer you away from having this feature though so not much to worry about there if you are going with our suggestions but it's something to look out for on those cheaper foosball tables you shouldn't be considered in the first place!
Alright, alright, don't laugh. I am detecting the snickers from here at the suggestion that foosball could be dangerous and you'd be right for the most part, but amazingly enough some people, in their infinite wisdom, do get hurt playing foosball too aggressively; usually by pulling the rods too quickly and getting pinched by the contact between the wooden frame of the foosball table and the metal rods.
Most top-level foosball tables (and the ones featured on our best foosball table list here) have rubber rod guards that prevent such dangerous events from taking place.
OK, so there are not a bunch of safety considerations to take in to account here but the other thing to keep in mind is that cheap foosball tables can have other problems with construction such as badly finished wood corners, poor surfacing and poorly fitted rods and foosball men. So yeah! Stay safe and try not to skimp too hard!
Final Thoughts: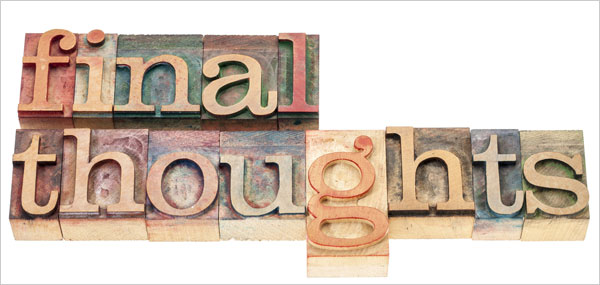 The foosball table is a classic game and a hell of a lot of fun and is a brilliant addition to your man cave. It's a game that is super easy to pick up and learn but difficult to master creating a real sense of progression as you get better.
I was pretty terrible when I got my first foosball table but over the years have become better and better as time and practice has sunk in.
I would have loved a foosball table guide like this back when I bought my first one because let's just say it wasn't the best quality foosball table in the world and ended up causing more problems than worth it for the money saved.
Hopefully, this guide has given you a head-start to making an informed decision when purchasing you and your family a quality foosball table.