We here at ManCaveMafia take the term 'Man Cave' pretty loosely as a rule, and whilst it might be a bit of a stretch to equate luxury yachts with man caves, they have a lot of things in common, just with the superyachting scene being slightly grander in the whole scheme of things by just a tad.
When billionaires want to treat themselves a lot of them go for what is for all intents and purposes a huge floating man cave stuffed with luxuries as one of their favourite ways to really splash the cash.
In this list we are going to take a closer look at the top 10 longest superyachts ever built and a little bit about each one of them.
These superyachts are well out of the realms of affordability for your bog standard millionaires and if you're only just scratching the billionaire club then you can still forget it.
These monster machines are strictly the playthings of the multi-billionaire class, as Bernie Sanders would call them, the 1% of 1%.
Even while the vast majority of us will never even set foot on a craft like these seen in this list, myself included, they are still fun to look at and hey, you can't take it with ya!
So without further ado, here are the current top 10 longest superyacht on the planet:
---
Number 10 – 'Super Yacht Yas'
Rocking in at number ten is the superyacht 'Yas', an incredible vessel featuring an extremley innovative and unique design most notable in its streamlined appearance, coupled with its space age curved glass (which can electronically darken for privacy) front bridge design that has been inspired by the shape of a dolphin.
The 'Yas' boasts 2 MTU 10,492hp diesel engines which propel her twin screw propellers making the Yas quite capable of a top speed of up to 26 knots, and she can comfortably cruise at 23 knots.
Everything about the design of the 'Yas', from the futuristic composite construction to the seemingly endless luxury bells-and-whistles scream high end luxury and performance.
And when it comes to amenities this is a boat that no bond villain would look out of place on.
As well as the usual spa, gym, swimming pool, heli-pad and tender garage the superyacht 'Yas' also comes equipped with the most sophisticated cinema system ever installed on a luxury yacht.
This thing is not only the ultimate floating man cave but the ultimate floating entertainment center!
Owner: Sheikh Hamdan bin Zayed bin Sultan Al Nahyan
Length: 141 m (463 ft)
Built: 2011
Builder: ADMShipyards
Designer: Pierrejean Design
Guests: 60 in 30 cabins
Crew: 56 in 25 cabins
Gross Tonnage: 
Draft: 13.78ft /4.2m
Cruising Speed: 23 knots
Top Speed: 26 knots
Value: $180 million
---
Number 9 – 'Sailing Yacht A'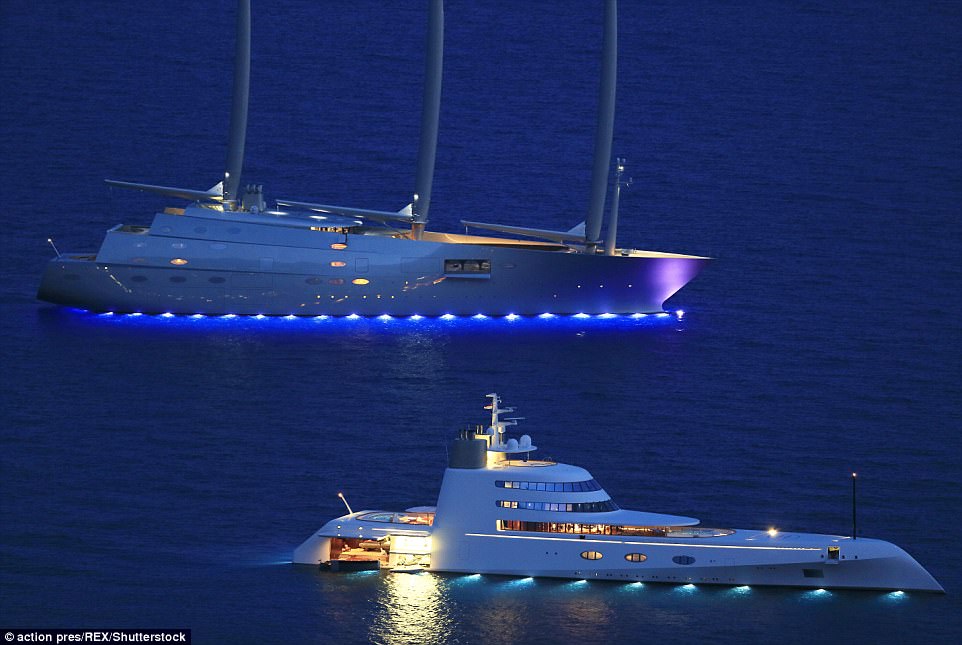 Russian oligarch and billionaire, Andrey Melnichenko's stunning behemoth 'Sailing Yacht A' features masts that are taller than London's Big Ben, and a highly unconventional design, much in the same vein as his older superyacht, 'Motor Boat A'. (pictured)
Mr. Melnichenko is well known to enjoy challenging the status quo and by teaming up with famous eccentric designer and artist Philippe Starck to design both of these extreme luxury superyachts, I'd say they've achieved their aim, with the help of almost three quarters  of a billion dollars to see the project through of course!
Gotta keep those wheels of industry greased!
When it comes to luxury, 'Sailing Yacht A' doesn't skimp with any of it featuring it's own helicopter landing pad, touch-n-go Helipad, gym, spa, jacuzzi (on deck), lift, tender garage, underwater lighting rig and even a huge underwater curved glass observation pod on the hull of the yacht measuring 193 square feet and coming in at a whopping 1.8 tons.
This is a yacht at the absolute cutting edge in every regard.
Owner: Andrey Melnichenko
Length: 143 m (468 ft)
Built: 2017
Builder: Lürssen
Designer: (exterior) Espen Oeino, (interior) Redman Whiteley Dixon
Guests: 20
Crew: 54
Gross Tonnage: 12700 Tonnes
Draft: 26.25ft /8m
Cruising Speed: 16 Knots
Top Speed: 21 Knots
Value: $500 million
---
Number 8 – 'El Mahrousa' "The Protected"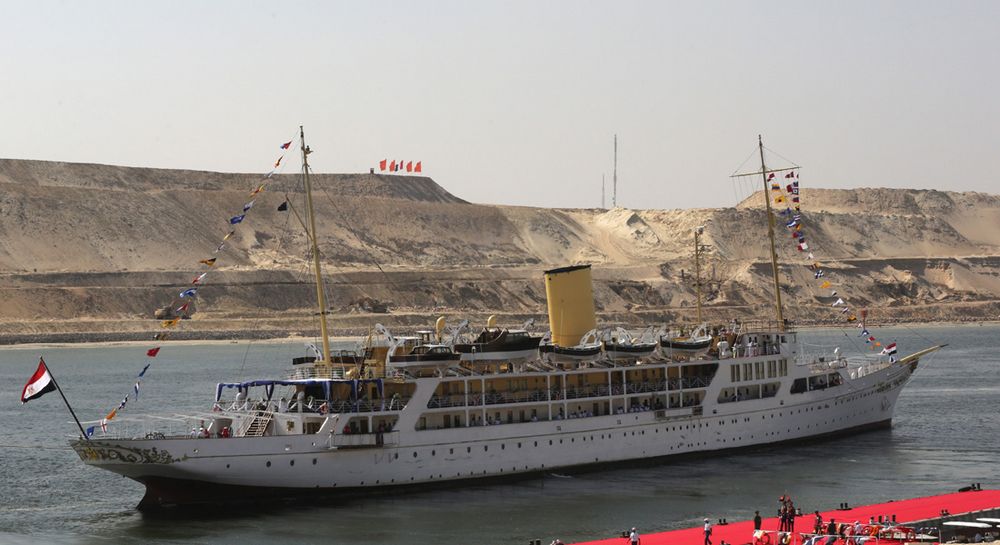 This vast yacht is a bit of an outlier on this list, with it most certainly not being a modern superyacht but instead being built way back in 1863 by the Samuda Brothers on the River Thames and designed by Sir. Oliver Lang.
The 'El Mahrousa' has gone through a number of retrofits over the many years she has been in service and is still in active service today as the Presidential Yacht of Egypt.
The 'El Mahroussa' is the largest classic yacht in the world right now.
Owner: Egyptian Government
Length: 146 meter (478 ft)
Built: 1863
Builder: Samuda Brothers
Guests: N/A
Crew: 160
Designer: Sir. Oliver Lang
Gross Tonnage: 4,561 GT
Draft: 5.3 m (17 ft 5 in)
Cruising Speed: 13 knots
Top Speed: 16 knots
Value: N/A
---
Number 7 – 'Prince Abdulaziz'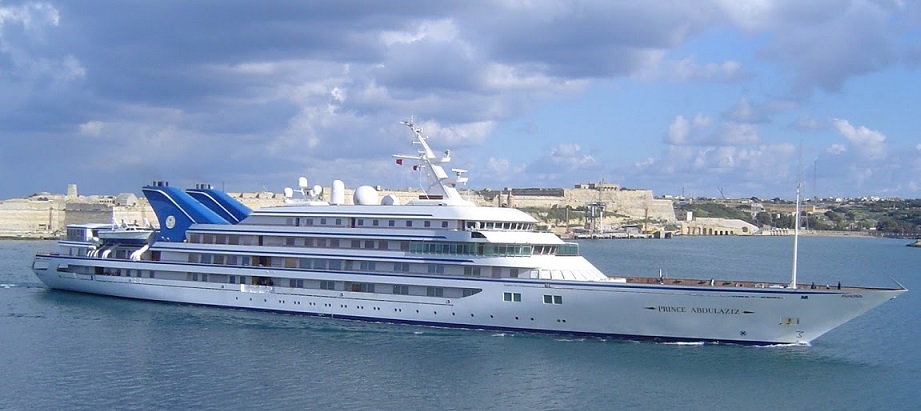 The 'Prince Abdulaziz' is one of the superyachts owned by the Saudi Royal Family and comes in on our list at number 7 with an astonishing length of 147 meters and a displacement of 31.7 million lbs.
Built back in 1984 the 'Prince Abdulaziz' was the longest and tallest yacht on the planet for an incredible 22 years before finally being overtaken by the 'Dubai' in 2006
Refitted in 2011 the 'Prince Abdulaziz' was originally commissioned for King Fahd of Saudi Arabia. With his death in 2005 the ownership fell to his son Abdul Aziz bin Fahd.
Owner: Saudi Royal family
Length: 147 meter (482 ft)
Built: 1984 (refit 2011)

Builder: Helsingor Vaerft
Guests: 64
Crew: 65
Designer: Maierform
Gross Tonnage: 4620 Tonnes
Draft: 16.01ft /4.88m
Cruising Speed: 18 knots
Top Speed: 22 knots
Value: $184m
---
Number 6 – 'Topaz'

The superyacht, 'Topaz' is state of the art in every regard, also benefiting from being one of the newer models on this list. At a gargantuan 147 meters the stretched profile of the 'Topaz' is easy to spot in any port in the world (well, the ones she can fit into.)
As you may have already suspected, this superyacht comes with every luxury fitting imaginable, from dual helipads (both front and back), jacuzzi, swimming pool, cinema, tender garage, air con, large conference and relaxations areas and and a full array of underwater lights to bling it up during the night, presumably so you can point out to see to show people which one is yours.
The 'Topaz' is owned by Mansour bin Zayed bin Sultan bin Zayed bin Khalifa Al Nahyan, commonly known as Sheikh Mansour.
Mansour is the deputy prime minister of the United Arab Emirates, minister of presidential affairs and member of the ruling family of Abu Dhabi.
He is also well known to football (soccer) fans as one of the owners and bankrollers of megarich football club Manchester City.
With a net worth of over $40 Billion he is clearly not skimping on style when it comes to his favourite ways to get around.
Owner: Mansour bin Zayed Al Nahyan
Length: 147.25m (483'2")
Built: 2012
Builder: Lurssen
Guests: 62 guests in 26 cabins
Crew: 79 crew in 35 cabins
Designer: Lürssen, Tim Heywood, Terence Disdale
Gross Tonnage: 12532 Tonnes
Draft:18.44ft /5.62m
Cruising Speed: 19.5 Knots
Top Speed: 22.9 Knots
Value: $527 million
---
Number 5 – 'Al-Said'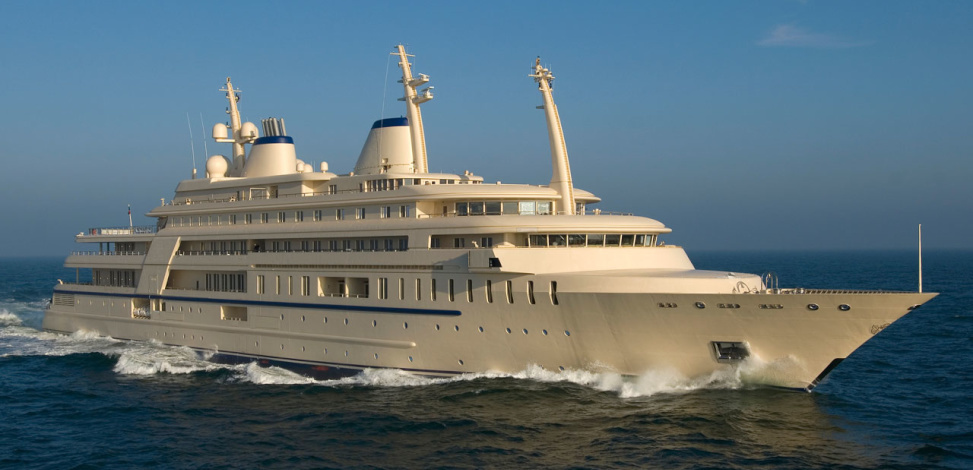 'Al-Said' is owned by Sayyid Qaboos bin Said Al Said, who is the current Sultan of Oman.
He rose to power after overthrowing his father, Said bin Taimur, in a palace coup in 1970. He is the 14th-generation descendant of the founder of the Al Bu Sa'id dynasty.
With all those titles and power also comes extreme wealth and the 'Al-Said' is a superyacht befitting of a Sultan.
Whilst it "only" ranks at number five on our list of longest superyachts in the world, it is in fact the largest when it comes to displacement (15,850 tons) and also boasts being the current most powerful superyacht in the world at (16,500kW)
Built by world-famous shipbuilders Lurssen in Germany and delivered in 2008 at the time she was also the second longest superyacht, but the billionaires have been busy in the intervening years as we are about to find out.
Owner: Qaboos bin Said al Said
Length: 508.53ft /155m
Build: 2008
Builder: Lürssen
Designer: (exterior) Espen Oeino, (interior) Redman Whiteley Dixon
Guests: 65
Crew: 150
Gross Tonnage: 15850 Tonnes
Draft: 18.04ft/5.5m
Cruising Speed: 22 Knots
Top Speed: 25 Knots
Value: $300 million
---
Number 4 – 'Dilbar'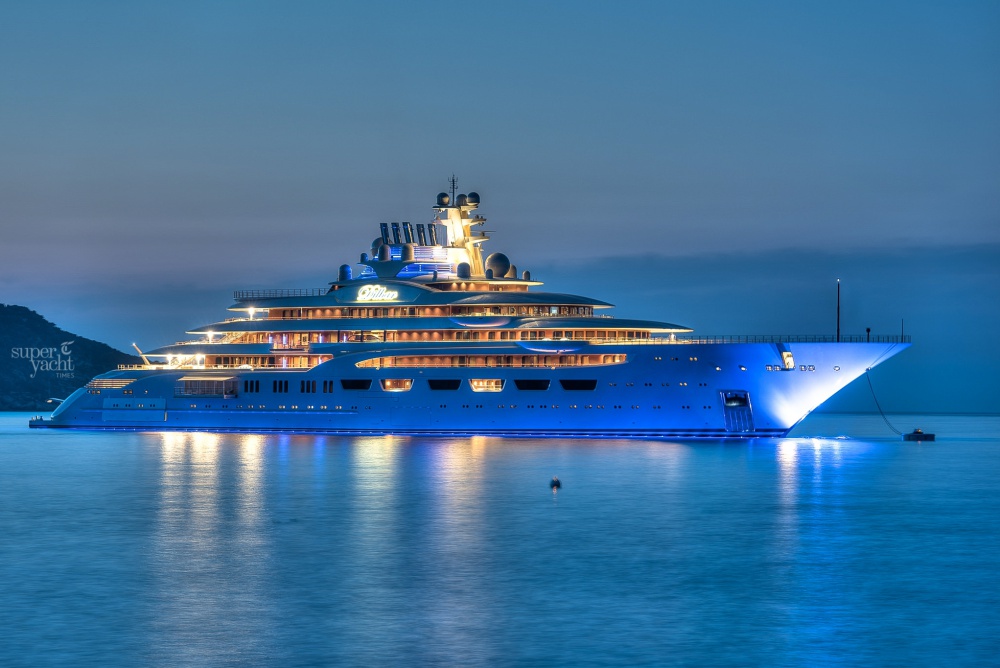 The luxury superyacht 'Dilbar', owned by Russian billionaire Alisher Usmanov, is currently the largest yacht in the world in terms of internal volume.
This behemoth of a superyacht cost a reportedly eye watering six-hundred million U.S dollars and it kind of shows.
Usmanov is one of Russia's richest men and the 75th richest in the world overall and his superyacht certainly fits up to the billing.
Even with an estimated net worth close to 20 billion dollars the 600 million the 'Dilbar' reportedly cost must have still stung at least a little (right?)  but what a return on one's most sizable investment.
If you get tired of owning the seas then the 'Dilbar' also comes equipped with its own custom built Airbus Eurocopter EC175.
Owner: Alisher Usmanov
Length: 511.81ft /156m
Build: 2016 
Builder: Lürssen
Guests: 24
Crew: 96
Designer: (exterior) Espen Oeino, (interior) Andrew Winch
Gross Tonnage: 15917 Tonnes
Draft: 20.01ft /6.1m
Cruising Speed: 17 knots
Top Speed: 22 knots
Value: $600 million
---
Number 3 – 'Dubai'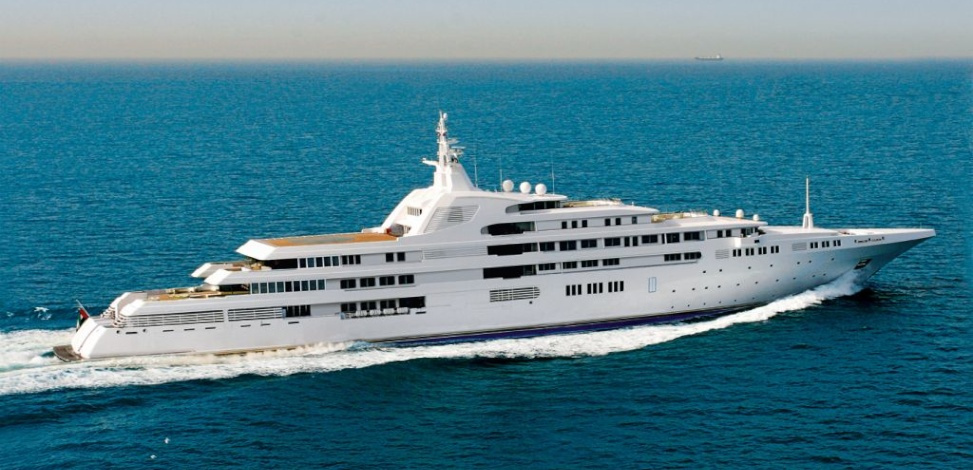 The 531 feet 'Dubai' was built by Platinum Yachts in 2005 and is at time of writing the third longest superyacht ever built, only recently being dethroned by the next two entries on our list.
Owner: Sheikh Mohammed bin Rashid Al Maktoum
Length: 531.50ft /162m
Build: 2005
Builder: Platinum Yachts
Designer: (exterior) Andrew Winch, (interior) Andrew Winch, Nakheel Interiors
Guests: 36
Crew: 88
Gross Tonnage: 13470 Tonnes
Draft: 16.40ft /5m
Cruising Speed: 20 Knots
Top Speed: 26 Knots
Value: $400 million
---
Number 2 – 'Eclipse'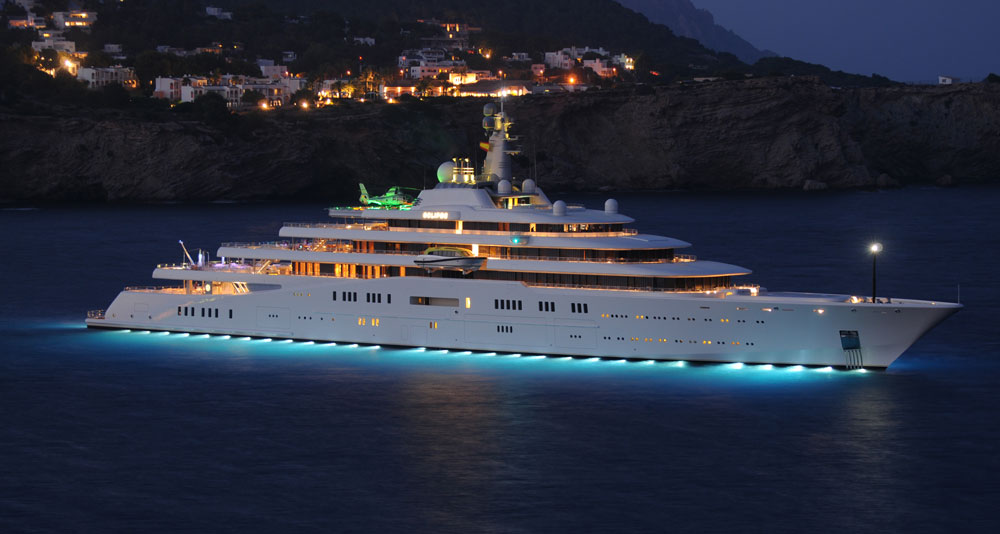 Owned by billionaire Russian Oligarch, Roman Abramovich —also the famous owner of Premier League football club, Chelsea FC,— the 'Eclipse' is currently the largest charter superyacht in the world.
So yes, whilst this is also one of the personal superyachts of Abramovich, if you have the scratch you can charter this absolute monster of a luxury superyacht for yourself, your friends and family!
The cost of that charter? A cool $2 million dollars a week. Ouch.
'Eclipse' was built in 2010 by Blohm + Voss and last refitted in 2015.
Terence Disdale is responsible for her beautiful exterior and interior design and there is not a single corner cut when it comes to decking out this insane yacht with every luxury amenities your mind can imagine.
36 guests in 18 rooms, including a master suite and 17 VIP staterooms.
A full sized 15 meter swimming pool, THREE (count 'em) helipads, a helicopter hangar and even its own wellness, spa and gym area. Add to that a dancefloor, on deck jacuzzi, on board cinema, beauty salon, luxury bar and oh yeah, it also has wifi.
This is the way to live.
Owner: Roman Abramovich
Length: 533.14ft /162.5m
Build: 2010
Builder: Blohm + Voss
Guests: 36
Crew: 70
Designer: Terence Disdale
Gross Tonnage: 13500 Tonnes
Draft: 19.36ft /5.9m
Cruising Speed: 20 knots
Top Speed: 21 knots
Value: $500 million
---
Number 1 – 'Azzam'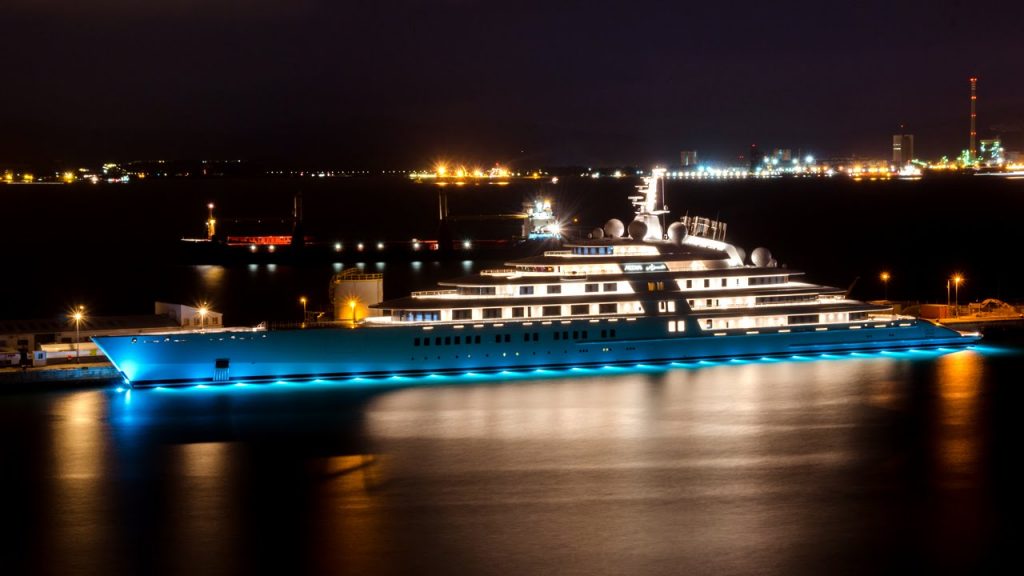 The superyacht 'Azzam' (meaning "resolute" in Arabic) is the current granddaddy of them all. a 180 meter floating palace that is indeed the current longest superyacht the world has ever seen.
There has been nothing left on the table when it has come to the design and implementation of amenities and luxuries aboard this stunning vessel.
Everything you've come to expect from the billionaire class' expectations for the best superyachts is here complete with heli-pad, cinema, conference areas, gym, spa, V.I.P cabins and garage and even a god-damn MINI SUBMARINE!
Yep, you heard that right.
The 'Azzam' comes equipped with her own mini-sub incase you get board of merely ruling the waves from above and want to claim the seabed as well or something.
Owned by Sheikh Khalifa bin Zayed Al Nahyan, President of the United Arab Emirates, the Emir of Abu Dhabi and the Supreme Commander of the Union Defence Force, the 'Azzam' was commissioned back in 2013 and is one of the most incredible vessels ever to be put to sea.
Her crown as the number 1 longest superyacht in the world though will not last for long, with the 'Triple Deuce' superyacht currently under construction at a reported price tag of 800 million dollars and a final length of 220 meters which will smash the current 180 meter record the 'Azzam' holds.
Owner: Sheikh Khalifa bin Zayed Al Nahyan
Length:
Built: 2013
Builder: Lurssen
Guests: 36
Crew: 20
Designer: Christophe Leoni
Gross Tonnage: 4620 Tonnes
Draft: 14.76ft /4.5m
Cruising Speed: 12 knots
Top Speed: 34 knots
Value: $600 million
---