The home theater seating scene has never been hotter or more accessible than it is today.
With a myriad of fantastic products available to help you bring a slice of the cinema life to your own cosy abode.
In this follow up to our 2017 guide, we are going to take a look at the very best in quality home theater seating.
We will be updating this buyer guide when and if new products hit the market that we think are worthy of inclusion.
Whether as an optional extra in an expansive, decked out man cave or for your very own dedicated home cinema there is something to love for everyone here.
Forget the sticky and uncomfortable seats of your local cinema and instead revel in the best luxury home theater seats you can buy today.
Living in the Lap Of Luxury
Home theater seating comes in many different varieties. From single-seat options to sprawling luxury multi-theater seat solutions.
In this article, we will be focusing on the more high-end section of the market, and the price and quality reflect that.
If you are interested in a more budget-oriented home theater solution than these high-end home cinema seats, then check out our companion article right here.
When choosing to deck out your home theater thoughts naturally tend to go towards what sort of visual and sound setup you are going for.  With giant 4k screens, projectors and elaborate sound speaker systems taking centre stage.
All of this is well and good but if you are not comfortable then all this technology quickly falls flat.
The Best Home Theater Seating in 2019 Buyers Guide and Reviews
---
Seatcraft – Anthem Home Theater Luxury Leather Seating Review  
Seatcraft features heavily in our buyers guide and for plenty of good reason.
They are a top quality manufacturer in the home theater seating space.
The Seatcraft Anthem Home theater seats show off that quality with an abundance of craftsmanship and excellent luxury level design.
This two-seat option comes with a fold-down table in the middle, complete with overhead lighting.
This is great for your, drinks, snacks, remote controllers and other items you want close at hand within easy reach.
When it comes to top grain leather, what we're talking about is the very highest quality leather upholstery you can choose for your home theater seating needs.
This top premium luxury leather is carefully selected from the best 20% crop of cowhides and is chosen specifically for its luxurious feel and texture.
The difference in quality is obvious from the moment you touch it, but sleek good looks and a sensuous feel are not all there is to such fine leather.
With a little maintenance, your Seatcraft home theater seats will last a lifetime and repay your investment many times over.
Adjustable Powered Headrests
Fully powered headrests that can adapt to a myriad of different positions at the simple click of a button are the luxury features that you may never have realised you really needed until you experience them.
You will never have to worry about neck or shoulder strain and you can be assured that your head, neck and shoulders are properly supported.
Your comfort is kept at the maximum no matter the length of time the movie or sports event runs to. 
Doing a Lord of the Rings Extended Edition marathon with your mates?
Watching 7 Hours of WrestleMania? No problem!
And of course, Seatcraft's attention to supportive design means that this unit is the perfect choice for anyone who has trouble sitting for long periods due to injury.
The middle backrest of this luxury home theater seat unfolds into a stunning tabletop. Featuring multiple cup holders, an overhead light, and two USB ports with a 110V AC power outlet that also includes Seatcraft's new wireless charging feature.
Recline your seats and headrests with ease. Get into your favourite position, simply by pushing a button on each end of the Anthem seat's power control panel.
A useful USB port is included to conveniently charge your phone or another electronic device as well.
---
Seatcraft: Seville Home Theater Seating Leather Power Recliner
If you're looking for a  high-end home theater seating solution with all the bells-and-whistles then you will be hard-pressed to do better than the Seatcraft Seville range.
This stretch four-seater just screams comfort and luxury and is an awesome option if you take your home entertainment time seriously.
If you want you, your friends and family to relax in a home cinema decked out with only the best, no matter the price-tag this is the way to go.
These Seatcraft Seville theater seats are not exactly cheap but you're still getting a hell of a bang for your buck with what you're buying here.
The Seatcraft Seville range of luxury home theatre seats brings a new level of comfort and quality to the high-end of home cinema seating game.
These chairs are produced with premium leather 7000™, a super-luxury top-grain leather that is hand-picked from the top 20% of all cowhides.
This special luxury leather is specifically hand-picked due to its superior look and texture.
The construction of the Seatcraft Seville comes with a sleek vertical split and cushioned headrests, for a luxury and contemporary finish.
Wooden accents on the armrests add a touch of natural elegance.
You don't need to visit a high-end movie theatre to enjoy the ultimate sound experience afforded by your favourite movies. Settle into your Seatcraft Seville and feel the film like never before.
With SoundShaker transducers built into each seat, you'll feel every explosion, car chase, or epic moment. Just add the optional SoundShaker amplifier (sold separately).
Tray Tables and In-Arm Storage
Seatcraft understands that convenience and a clutter-free environment is a key part of comfort and relaxation.
Place your favourite snack or beverage on the beautifully crafted tray tables and stow your needful items tidily away in the in-arm storage when not in use.
Forget groping about in the dark when you reach for a drink.
The Seatcraft Seville's lighted cupholders emit a gentle, classy azure glow that allows you to find your beverages easily in the dark and can be turned on and off easily with the push of a button.
Seatcraft really does think of everything.
This incredible home theater seating system ensures you never have to flip the house lights on when someone goes to the toilet or visits the kitchen to replenish the snacks.
Ambient base lighting under the seat provides a discreet means for guests to find their way in a darkened room. Plus it looks so cool!
---
The Octane Turbo XL700 Black Leather Home Cinema Seat
We feature a lot of Seatcraft in our reviews, and with good reason, they're an excellent company.
But they're not the only players in the game, and Octane, whilst not as prevalent in the market as Seatcraft are still a big name in the home cinema seating business, and the Octane Turbo XL700 is our favourite pick of the bunch.
This three-seater fully-features power reclining leather home theater seating solution is all about extreme comfort and style.
The Turbo XL700 from Octane is the answer to premium luxury for only the best home cinemas.
This chair comes with it all, from full-back and neck support from its high sitting headrest, whilst featuring overstuffed and highly plush cushioned support, making sure that even those lengthy directors cuts of movies these days will not drag out and you can stay comfortable throughout.
The Turbo XL700 comes with some of the most comfortable seats we have found in the home theater seating game with special gel-infused memory foam in each cushion to make sure that you are well supported at all times and that the cushions always bounce back to their original positions even after prolonged use.
Strip lights under the seats add to the luxury feel and overall aesthetic, with cupholders, and even a swing tray for snacks and remotes for each seat.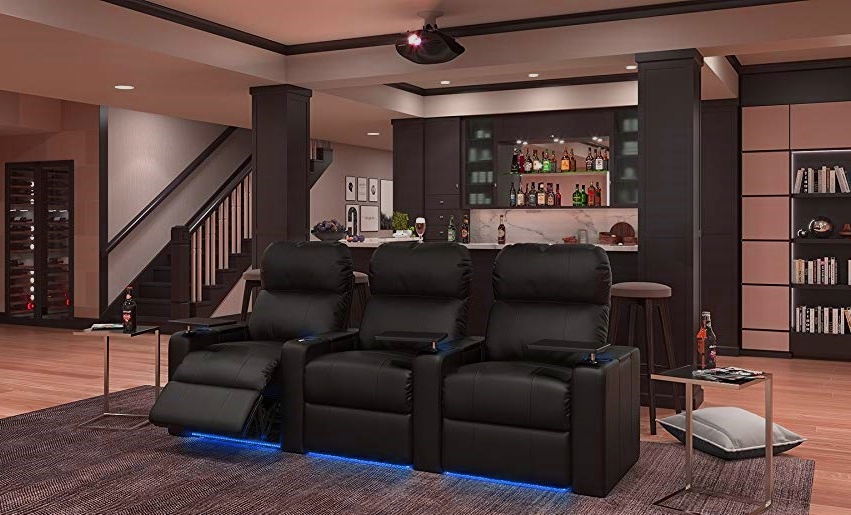 The Octane Turbo XL700 comes with every type of feature you can possibly imagine.
With personal arm storage, steel-rimmed cup holders, charging ports, deep in arm storage all coupled with Octane's LED Ambient Lighting System.
These LED lights are featured below each chair and also around each cupholder for easy access when the lights are out.
Don't worry though, if you find these distracting during a film or intense gaming session then it can be easily turned off at the click of a button.
Accompanying these, are multiple charging ports alongside each arm of the chair, with chrome accents that make you feel like you're on the bridge of the Starship Enterprise more than in your own home.
Only the best in quality thick bonded leather is used to upholster these chairs with the previously mentioned plush cushioned providing maximum comfort and lumbar support.
The Octane Turbo XL700 is modern and contemporary in every facet of its construction
Built for the best possible lumbar back support

Featuring deep storage compartment within each rest arm

Brushed stainless steel cup holders

Gel-infused memory foam in cushions for extreme comfort
---
Seatcraft Europa Home Theater Seating with Full Power Recliner
Continuing our trend of high luxury home theatre chairs, we're back to the tried and trusted, Seatcraft with their Europa line of home cinema comfort.
A slightly more compact 2 seater chair with deep storage and cup holder island between the Europa goes above and beyond in the name of comfort and top quality features.
The highest quality top grain leather gives the Europa an extremely plush feel
Bells and whistles galore:  
You are getting everything you expect from a premium Seatcraft chair here but even more up to date.
The new wireless charging feature allows you to put any QI-ready smartphone, tablet or laptop on top of the wireless charging panel to charge all your devices without having to deal with pesky wires.
If you don't have a QI device just yet though, don't worry, the Europa also has normal USB wired charging if needs be.
This is one plugged in a futuristic super chair!
The Seatcraft Europa is truly a seat of the future. 
If you're looking for a top-tier two-seater solution for your man cave or home cinema then this is an amazing option that will immediately upgrade your home theatre experience to the luxury and comfort you should be striving for.
Barcalounger Solaris Power Recliner Home Theater Seating
The Barcalounger Solaris home theatre seat pushes the way forward in high-tech innovative luxury.
Alongside the Octane line, the Barcalounger is the only other chair deemed worthy enough to have a place alongside the dominant Seatcraft range.
It does that by offering only the best in construction materials and quality features.
This seat's high-grade grain leather upholstery ensures only the finest in soft textures, swag aesthetics, and incredible durability that doesn't degrade or sag with age.
Only the best materials will do
Featuring an innovative and high-tech 'chilled gel' cushioned interior, the Barcalounger Solaris is specially constructed with these high-grade materials to help keep the temperature under your body cool and fresh.
This makes sure you can stay comfortable no matter the length of time you are sat down in it.
The Barcalounger Solaris' enduring design direction features diagonally bolstered sides and a powered headrest.
With overstuffed cushions on the seat keeps you firmly and comfortably in place, whilst the fully automatic powered recline allows you to kick back and stretch out at the touch of a button.
Innovative in the extreme
As you'd expect from a chair in this class you get all the bells and whistles here for your purchase.
Ambient cup holders and base lighting emanate a gorgeous azure glowing effect that perfectly accents this high-tech home theatre seat.
Whilst also allowing some low-level illumination in the dark if you are so inclined to need it.
Included, as well, are standard tray tables that can offer a great place to keep all of your remotes, snacks and electronic devices.
These include items like iPads, laptops and phones, while a nifty USB charging port will keep all of your cell phones and tablets juiced up and close at bay.
The Barcalounger Solaris really does run the gamut when it comes to exclusive luxury features that you would expect on a chair in this class.
If all of that wasn't enough, the Solaris also comes with the incredible SoundShaker system.
What is a SoundShaker system you ask?
Well, it is basically a solid-state amplifier that sits in the base of each of the chairs and dynamically responds to the action taking place on the screen, transforming them into a low-level rumble that gives you an entirely new experience when watching the latest blockbusters.
Every stunt, explosion, and action-packed moment is translated into a tactile experience in the chair giving you the absolute best film-going experience you can possibly muster at home.
Don't just watch the movie! Feel it too!
Whilst the chair is SoundShaker ready and comes with an inbuilt bass shaker pre-installed in each chair, (requiring you to only hook up your home audio system wirelessly) it will require a separate purchase of the SoundShaker amplifier itself which can be bought on Amazon here:
---
Seatcraft Equinox Home Theater Seating with Powered Recline
The Seatcraft Equinox range is nothing if not flashy!
Yes, you can get these top-end theater seats in a less flashy colour than this sports car red finish we are featuring here.
That said, if you're all about making a strong statement and standing out from the crowd, or are perhaps going for a specific theme for your home cinema room then maybe these loud and proud theater seats will take your fancy.
Once we get past the punchy red finish though, what we have here is the highest of quality cinema seats on the market. Stacked with all the bells-and-whistles you have come to expect from high-end Seatcraft offerings.
Cup holders, LED lights, Storage bays and fully wireless charging are the standards here alongside The previously mentioned Soundshaker ready system.
Each seat is pre-installed with SoundShakers innovative bass shaker, requiring only a one-time separate purchase of the actual  SoundShaker amplifier (see the Barcalounger review above)
Full Lumbar Support Ensures that Back Pain is the Thing of the Past
Seatcraft have really brought their A-Game with the Equinox home theatre line.
It also comes with a fully powered lumbar support feature in these chairs.
This fully powered lumbar support ensures that maximum support is afforded to your back to keep the curvature of your spine just right.
This results in increased comfort and far less strain than in cheaper knock-off chairs.
Powered recline and powered adjustable headrests round off the experience, giving you a full suite of features to keep you in maximum comfort at your desired viewing angle at all times.
Elevating movie night at home to the next level
The Seatcraft Equinox also comes pre-installed with the epic Sound Shaker Transducers.
When powered by the amplifier (sold separately), will elevate any home cinema experience ten-fold by lightly shaking and rumbling the chairs in perfect sync with the action unfolding on the screen in front of you.
This is a truly magical experience and something that puts these class of home cinema chairs from the great to the truly amazing.
This is a wow factor that will not leave you, your family and friends for a long time after.
The upholstery used here is high-grade leather hand-picked for its luxury feel, smooth texture and unmatched durability, and aesthetic.
Also featured here is a special memory button that you can set to immediately power recline into your preferred and optimal comfort position, giving yet another high-tech option to this already feature-rich chair.
---
The Seatcraft Enigma Home Theater Leather Seats with Power Recline
Last on our list today is this incredible four-seater stretch home theatre setup from our old favourites Seatcraft.
The first thing that strikes you about the Seatcraft Enigma is the sheer craftsmanship and attention to detail that has gone into the construction and leather upholstery. This is simply the crème de la crème of handcrafted workmanship in the home cinema seating space.
Meticulously crafted, each of its double-stitched diamond patterns seamlessly flows into each other, with each adding to this stunning masterpiece.
The unique diamond pattern design is a real eye-catcher and won't fail to impress your guests and family alike and will add an extreme touch of class and luxury to any home cinema.
We've established that this is one beautiful set of chairs but looks are not the only place it excels. With a full spectrum of features on display here we get everything we've come to know and love from the Seatcraft range of home cinema chairs.
The silent powered recline gives a gentle and effortless recline into your most comfortable position every time
Like many other chairs on this list in the premium range, the Seatcraft Engima comes pre-installed with amazing SoundShaker transducers which shake and rumble the chair in sync to the on-screen developments in real-time.
Aesthetics and comfort all in one. 
Again, remember whilst these chairs are equipped with the SoundShaker bass boxes they will still require the SoundShaker amplifier (purchased separately.)
Everything about the Seatcraft Engima screams class and style. From its chrome LED-lit azure cupholders to its matte tray table, beautifully implemented USB charging ports and stunning sapphire LED's that emanates a soft glow from below each individual chair.
The Enigma is a chair that doesn't want you to leave it and you will end up agreeing with it. This is simply a brilliant choice for decking out the best man caves and home cinemas your mind's eye can imagine.
---
What to Consider When Buying Home Theater Seats:
This might seem obvious but when choosing the best home theater seats for your cinema room or man cave the overall comfort of the chairs are a big factor.
Consequently, It's all well and good getting an expensive chair that looks the business but if it's not made with premium quality materials and top quality craftsmanship then you are going to be making an expensive mistake.
Make sure that the materials are up to par and that any issues you may have with your back or spine are well catered for and offer the right type of support.
It's always a good rule of thumb to check out other user reviews to see how other normal consumers like yourself have found the experience.
It only takes a few minutes to do the research that could save you from a costly mistake.
Number of seats and Size of Home cinema
It's always important to make sure that you have enough room in your man cave to actually fit your cinema seat setup in.
The last thing you want is to have the chair delivered and not be able to fit it inside your chosen room!
Some of the more elaborate and expensive home theatre setups — especially the four-seater options — are very large and so always double-check the measurements of the manufactures specifications to avoid any mishaps.
How many people will be regularly enjoying entertainment night in your swag new home cinema?
When you have a lot of people to cater to then make sure to get enough seats.
If only some of you are sitting in the lap of luxury and someone has to be relegated to an old rickety chair or a beanbag it may put a dampener on the evening!
Modern home theater seats, especially in the luxury range, come with multiple cool features.
From cup holders to ambient lights, to powered headrests and fully realized storage options. There are a number of cool things to consider here.
likewise, If you are going for a more budget option then you might want to forgo fancy ambient lighting.
Although, in my opinion, never skimp on getting home cinema chairs that feature the ability to fully recline.
There will always come a time when you don't want to be sitting fully upright.
For that reason, in that third hour of the film, you will often want to recline the chair to relax.
And hey, this is why we want our own home cinema to begin with!
You can't do this in your local cinema but we can when we're doing it at home!
Beyond that, more advanced features can include USB charging stations for your phone or other electronic appliances.
When buying large and expensive items like these you want to make sure you are home for when the delivery takes place.
Also, it goes without saying but make sure you have a clear and easy path to their final destination.
On top of this, you are going to want to make sure that if there are any assembly requirements you have the correct tools to put everything together.
Some seats will come as is, and ready to go, but the larger setups might require some assembly after delivery.
This shouldn't be too much of an undertaking though. Manufacturers make sure to make things as easy as possible for you but it's always good to make sure you know what to expect.
This is true for when you're buying the pieces for your dream home cinema experience and it's true in life!
---